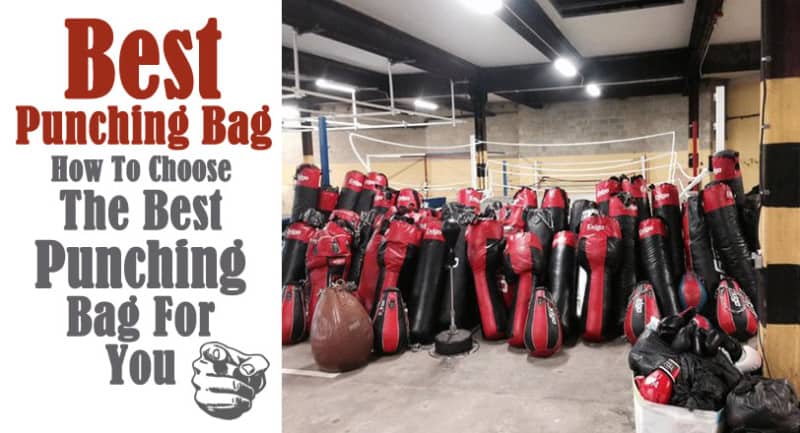 So, you're interested in getting into boxing?
Then you need a good punching bag.  In fact, you need the best punching bag you can afford.
You can look on buying a good punching bag as an investment.  Even if you're only interested in boxing for fitness, buying your own punching bag will usually work out a whole lot more affordable than paying to go to the gym.  It'll be more convenient too.
The key point is to get the right punching bag.  This can be a bit of a challenge.  There are all kinds of punching bags at all kinds of prices.  Some are great, some are good, some aren't.  That's why we've included a guide to the best bags to help you save time, stress and money!
Quick Jump
How Can You Benefit from Owning a Punch Bag?
Owning any of these types of punching bags will help your boxing skills, as long as you use them. If you have a bag at home, you're a lot more likely to train often. That will help you in refining your skills.
Here are some of the boxing skills that you can improve by practising with a punching bag every day.
Stamina
Technique
Combination punches
Power
Different types of punching bags.
Each punching bag serves a specific purpose so using the right one will help you improve your punching skills.  Here's a quick guide to the main types of punching bags and how they are used.
Heavy Bag
A heavy bag mimics an opponent's movement, so you'll need to use proper positioning and footwork to deliver clean punches. This is the big difference between heavy bags and free-standing bags.  Free-standing bags are basically static bags, so it takes much less skill to land clean kicks or punches.
The one big potential drawback to using a heavy bag is that you need somewhere to hang it.  That somewhere needs to be strong enough to take the weight of the bag.  It also needs to be a place with enough space for you to move right around the bag.
One other point to note is that good heavy bags can be relatively expensive.  On the plus side, this is because they tend to be made of leather so they usually last for ages as long as you take care of them properly.  They definitely work out more affordable than gym membership
Pros and cons 
---
---
The Best Heavy Punching Bags List
Here's our pick of the best of the heavy bags available in the UK.
Everlast Nevatear Heavy Punch Bag
The punching bag itself is great, we only wish we could say the same about the hardware.  We feel we need to tell you upfront that if you opt for this bag, we think you'd be well advised to swap out the chain as soon as you get it home and while you're at it, swapping out the D rings as well would probably be a good move.
Once you've done that, however, you'll have a great bag which is not quite pro standard, but certainly more than up to the needs of intermediate users until they trade up to their "final" bag.  Unlike the hardware, the cover is robust and the filling feels good to the hand and seems robust enough to take some serious punishment over the long term.
Overall, we'd say that even factoring in the cost and time of changing the hardware, this punching bag is still great value.
Hydro Bag
Ringside (RINAV) Ringside Hydroblast Water Heavy Bags
Hydro punching bags have a very distinct feel to them and in our experience, you either like it or you don't.  Basically, they do tend to feel much more like hitting a real human than other bags so if you are training for a fight they can be a great choice, but if you are just interested in staying fit, you may not like it so much, in fact, the feel of them may make you uncomfortable.
You definitely need gloves when using these bags and you need to be prepared for resistance to your punches.  Remember that even though water is a liquid, if you actually hit is (as opposed to sliding your hand into it), it is actually very hard (which is why divers break the water with their arms before their heads go in).
These bags are easy to fill, but you probably want to put a bucket underneath them when you do so (or fill them outside) as you're pretty much guaranteed to get some splashes.
As a final point, the bag is, obviously, waterproof, the chain is not.  If you leave this bag outside then you will need to protect it from rain or else the chain will rust.
Impact is absorbed into the water bag which is significantly easier on joints and hands
The durable even-walled rubber has a unique shell design and water filling provides a life-like feel of the human body
Built to last and suitable for indoor or outdoor use
Ringside Leather Heavy Bag
Even though it's the lightest bag on our list, this punching bag offers really impressive quality at a great-value price.  Its leather outer is smooth on the skin and the inch of foam directly under the cover gives great protection from injuries.  At 42 inches (three and a half feet), this punching bag offers a bit of extra length over many of the other entry-level bags, hence could be a good choice for taller beginners.
Overall, we'd say the quality is great for the money and we'd put it more or less on a par with the Outslayer Filled Punching Bag for Boxing and MMA, 80lb and a little ahead of the Everlast 70-Pound MMA Heavy-Bag Kit but the pricing reflects this.
Best Heavy Bag For Beginners
It's very rare for us to have a clear winner in any category, but in this case we think that the Ringside Leather Heavy Bag stands out clearly.
Best Heavy Bag For "Blow the Budget" Quality
If you're seriously into boxing, then the Ringside (RINAV) Ringside Hydroblast Water Heavy Bags will give you the feel of punching a real opponent.
Free-Standing Punching Bag
Free-standing punching bags have an attached base, so you can put them wherever you like.  This is their big advantage as compared to heavy bags.  In addition to saving you the task of finding somewhere to hang them in the first place, you also have the option to move them about as necessary.  This means that if you have a small home gym, you can swap you free-standing punching bag with your other workout equipment as you need to.  It also means that if you need to hide it away, for example, you have guests coming over, you have more options available.
Even the best free-standing punching bags are a bit limited compared to heavy bags.  That said, they're still pretty good and a whole lot better than nothing.  They're also a whole lot more affordable than gym membership.  They're great for practising punches and kicks and pretty decent for groundwork.
Free-standing punching bags come in a wide range of shapes and styles.  If you're thinking about doing any serious fighting, you might want to go for one shaped like a human for a more realistic fighting experience.
Pros and cons 
---
---
Angle Bag
Angle bags take their name from the fact that they are wider at the top than the bottom.  This makes it easier to practice curl punches and uppercuts. Some MMA and Muay Thai fighters also use angle bags for practising their elbow strikes.
If you have space and budget, then an angle bag can be handy.  If you don't then you can practice most of the same moves on a heavy bag or even a free-standing bag.
Wrecking Ball - Maize Bag
These bags look like wrecking balls and are filled with maize.  Like angle bags, they can be very nice to have but far from essential.  Basically, the idea behind a maize bag is that it will force you to move and hence improve your footwork.  If you're thinking that we just said that about heavy bags (and to a lesser extent free-standing bags), the answer is, exactly.  Maize bags just do the same job rather more stylishly.
What to Consider when Choosing the Best Punching Bag
Here's a quick guide to the key points to look for when choosing a punching bag.
Brands
This may seem harsh, but the fact of the matter is that heavy punching bags are massively popular items of sports equipment (for good reason) and hence they're a popular target for companies which just want to make an easy profit from people who don't know better.  Glossy adverts and marketing promotions mean nothing, what matters is the user experience.
The top brands work hard to win the respect of the fighting-sports community.  They have been in the business a long time and they're probably going to be in the business a long time.  Genuine up-and-coming brands will reach out to reputable magazines and blogs and will submit their products for an honest review.
In short, when it comes to heavy bags (and sports equipment in general), buying from a respected brand provides reassurance that you will get the quality you need over the long term and will increase your options for reselling your item if you move on for any reason.
Filling
There are four main types of filling used in punch bags – fibre, foam, water and sand. Some bags use combinations of these such as foam and sand together.
The idea is to get the right level of resistance against punches and kicks without reaching the point that the filling is so hard it creates the risk of injury.  Your tolerance of harder fillings will probably increase with practice, so it's useful to be able to adjust the filling as you see fit.  Most good bags will make this possible.
Fibre
Fibre is readily available, affordable and offers great resistance.  It's therefore one of the most common bag fillings there is.  The one downside with fibre is that it can shift with use, thus creating a lumpy bag.  Fortunately, this is easy to fix, by adjusting the filling.
Foam
Foam is becoming increasingly popular as it is a stable filling, meaning it doesn't shift the way fibre does.  On the other hand, you can't adjust it the way you can adjust fibre.  This is why punching bag manufacturers are increasingly looking at using fibre and foam together.
Water
Water is hard when you hit it and the more water a bag contains the harder it is.  In many places, water is also widely available and super-affordable.  Plus, it's usually really easy to fill a bag with water and also to empty it again if you need to (for example if you're moving house).  There are, however, a couple of downsides to water.  One is that, no matter how good the bag is, you always have the possibility of it springing a leak.  The other is that some people just don't like the feel of hitting a water-filled bag.
Sand
Basically sand works much the same way as fibre.
Outer Materials
Punching bags are usually made from synthetics, canvas or leather.
Synthetic bags are very easy to keep clean, but have a limited lifespan.
Canvas bags are pretty durable, and many of them last a long time.  They do need to be kept dry or they can be attacked by mould.
Leather bags are the most expensive, but if you take proper care of them, they can last a very long time.
What Weight of Punching Bag Is Right For You?
Easy one here, you want a bag which is approximately half your bodyweight.  This will give you a decent amount of resistance while still having enough give for you to hit it safely.
How to Hang a Punch Bag – Which Way is Best?
Here are the various options for hanging your punching bag, along with their pros and cons.
Ceiling Hook Bag Hanger
This option will let you hang your punch bag from a beam, ceiling or wherever is suitable.
---
---
Universal Punch Bag Hanger
This is a very portable option. It allows you to hang your punching bag in any place, as long as you have something you can hang it from.
---
---
Wall Bracket
These brackets attach with screws, allowing the punching bag to hang anywhere from 16 to 20 inches away from the wall. The length depends on the brand.
---
---
Punching Bag Stand
Basically, this is a sturdy metal frame, which can stand up to the weight of a punching bag. If you're thinking of getting one of these, then we strongly recommend doing some reading before you spend your money. There can be a big difference in quality between brands.
---
---
The Best Punching Bag For Kids
If you just want your kid to get a bit of exercise, then a cheap, plastic, inflatable punching bag may be fine.  Just remember that it's unlikely to last any length of time.  If, however, your kid is seriously into boxing or MMA training, then it's worth investing in a decent punching bag for kids.  Basically, you want a pint-sized version of an adult punching bag.  Entry-level proper punching bags for kids often come with gloves and these are usually good enough to start with.  If your kid sticks in at the sport, you can upgrade both the bag and the gloves.