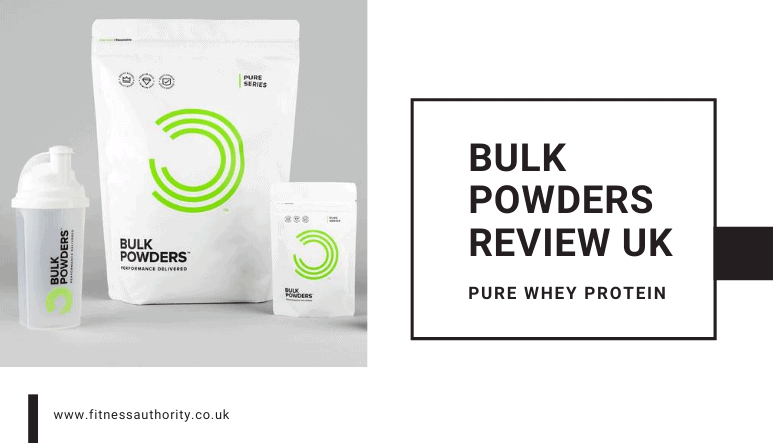 Quick Jump To List
Bulk Powders Review - The company
Back in 2005 an upstart sports nutrition company decided that it could do anything MyProtein could do and do it better and be more affordable.
Fast forward to today and MyProtein and Bulk Powders sit pretty much side by side in the rankings of sports nutrition companies.
Both have positioned themselves fairly in the middle-to-upper end of the market and are able to offer quality products at value prices by focusing on what matters and cutting out the frills.
For example, Bulk Powders clearly prides itself on working with only the best suppliers for their ingredients, while skipping on fancy packaging, paid endorsements and retail distribution channels.
This strategy has seen Bulk Powders grow from being a company held together with duct tape and determination to being a respected name in the health-and-fitness industry.
Even though we assume that this journey involved streamlining processes and creating effective systems to ensure a seamless and simple ordering process from first click to prompt delivery, it's good to know that Bulk Powders has kept their human touch.
Their commitment to customer service is far more than just words on their website.  It's easy to get in touch with them, in fact, they even have a phone number, which seems to be increasingly rare these days.
When you do, you'll find yourself dealing with a friendly and helpful human rather than a computer system.
Bulk Powders Review - The products
Whey protein powders are one of the most popular health and fitness supplements around so a company has to offer something a bit special if they're to stand out from the crowd.
Bulk Powders has built its brand on offering great value products without any unnecessary frills, but as anyone involved in health and fitness knows, there's only so much fat you can lose before your muscles start to suffer.
Fortunately we think Bulk Powders has hit the right balance.  The packaging, frankly, looks like something you'd find at Lidl or Aldi (which we think is actually a pretty decent point of comparison).
It's never going to win any design awards, but it keeps the product safe in transit and storage and gives you all the relevant information.
Specifically, it lets you know that the protein source is undernatured whey protein concentrate and that each 30g serving of the unflavoured version offers 24.2g of protein along with 5.3g of branch-chain amino acids and 4.2g of Glutamine.
The flavoured versions, of which there are currently 22, all have slightly different values, but they're all in the same sort of ballpark
The whey is sourced from grass-fed cows which are grazed in Europe and the entire treatment process is undertaken at the lowest possible temperature to preserve as much of the goodness as possible.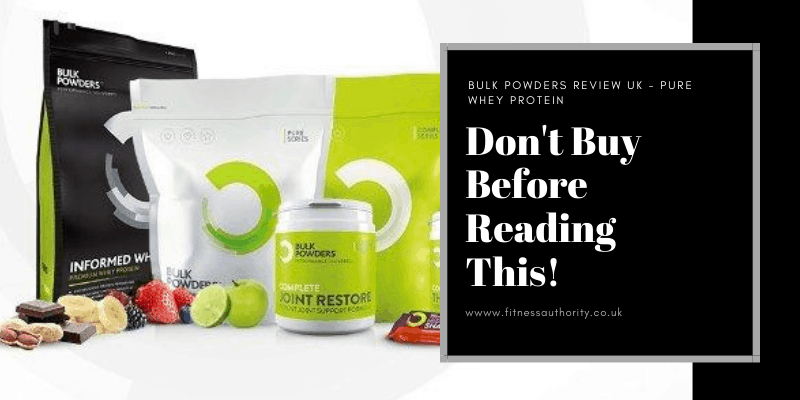 Flavour and consistency
It's always a challenge commenting on flavour because everyone has their own taste.
All we can say is that even though we're nowhere close to having tried their full range of flavours and, to be honest, there are a few of them which we'd prefer to pass on anyway, we're happy with the ones we have tried and again even if you're happy to stick with mainstream ones like chocolate, we doubt you'll find any better anywhere else and we doubt even more that you'll find it at this sort of price.
If you're looking for something a bit different from the usual round of chocolate, banana, strawberry and vanilla, then you've come to the right brand and if you're really lucky, they'll bring back mince pie and cream flavour at Christmas time.
What we can say for a fact is that in our experience this powder does mix very well regardless of what flavour you choose or whether you make it with water or milk.
Bonus tip - Bulk Powders recommends that you generally mix this product with water as this enables the quickest release of the protein, however you can also mix it with milk if you prefer or if you are deliberately looking to slow down the speed at which the protein is absorbed.
In other words, even though this product is marketed as a "daytime" drink with casein powder being the supplement for use at night, if your regular training regime is more moderate, e.g. you are simply aiming to keep fit rather than bulk up or develop serious endurance, then you could feasibly use this product with milk at night as a massively more affordable alternative to casein.
Value
One feature of this product which we really love is that Bulk Powders manufactures it in a variety of different sizes, all of which come in at reasonable price points, which means that if you're the kind of person who gets bored of using the same flavour all the time (or you're just really short on storage space), you can buy smaller quantities and still enjoy affordable prices.
To put this into perspective for you, you can currently buy this product in quantities of: 500g, 1Kg, 2.5Kg and 5Kg.
If you go for the unflavoured version, you're currently looking at a price of about £0.50 per serving for the 500g pack down to about £0.30 for the 5Kg pack.
The flavoured versions are slightly more expensive, but even so they're still at the affordable end of the price range and we've yet to find a brand which offered the same sort of quality at a lower price point.
Bulk Powers Review - Overall
In our opinion Bulk Powders has done it again.
We appreciate that those seeking the highest possible quality of nutritional supplement are probably going to want to look elsewhere and those people are going to be prepared to pay the appropriate (and much higher) prices (or have sponsors who will).
The reason Bulk Powders is a success, however, is because they've worked out how to create high-quality products, which satisfy the needs of a large percentage of people and they make sure they are pleasing both to the taste buds and to the wallet.
If you're looking to whey protein to help with a weight-management regime (gain, loss or stability), if you're a diabetic needing to keep your sugar levels stabilized or if you're someone who takes working out seriously without having any ambitions to reach the highest levels of power sports such as weight-lifting, bodybuilding or endurance events, then this product could meet all your needs.