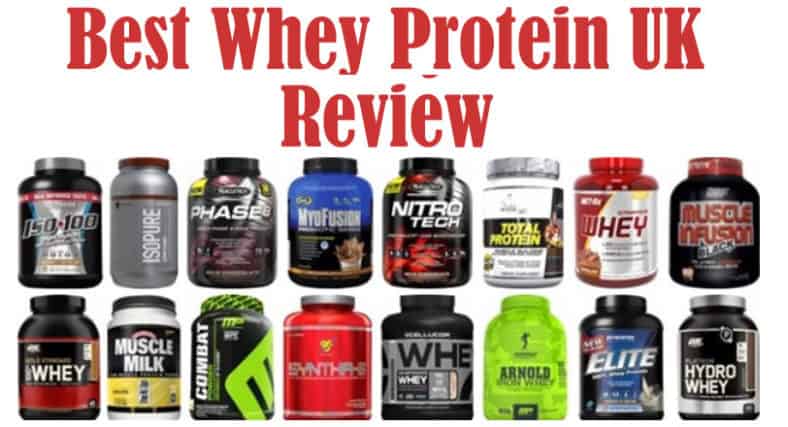 The importance of protein has been known in the health and wellness world for a long time now.
Over recent years, however, the emphasis has shifted from just making sure to consume sufficient protein, to get the right sort of protein.
It's the difference better big muscles and super out of this world muscle
Red meat, for example, has a high protein content, but is also often high in saturated fats and, of course, is off-limits to vegetarians.
Whey protein is not only vegetarian-friendly, but can even be used by many people who are intolerant of milk as it has a very low lactose content.
Want insane muscle mass? We'll give it to you , step forward our guide to the Best Whey Protein UK.
Best Whey Protein UK List
Whey protein contains all 9 amino acids and is considered the most complete protein of all. At this time there are three main types of whey protein on the market. They are hydrolysate, isolate and concentrate.
Whey protein hydrolysate is mainly used for medical purposes as it has essentially been partially digested, which makes it very easy for the body to absorb it. It can, therefore, be used in food for babies and infants and also for people who have a medical need for a high level of protein.
Whey protein isolate is processed to remove fat and lactose, which means it is highly digestible and although technically still a dairy product, has a very low allergy risk.
"A quality brand of WPI should be at least 80% pure protein and may even be higher"
Whey protein concentrate is more variable in quality, which is why it's really important to be familiar with your brand so that you know what you're getting.
Low-quality WPC can be as little as 30% actual protein with the rest of the content being (largely) fat and lactose. High-quality WPC can be as much as 90% protein, almost an isolate.
From a nutritional perspective, protein is now recognized as a key factor in healthy weight loss and managing body weight. There are five main reasons for this.
Protein slows down the digestive system, with the result that we feel fuller for longer.
A combination of protein and complex carbohydrates gives long lasting energy with a slow release of sugar, thereby helping to stave off sugar cravings.
As an added bonus, protein and, in particular, whey protein can help to maintain stability in the body's glucose levels, which is why it is now starting to be recommended to diabetics.
Protein takes effort to digest and hence burns up more calories in the process.
It makes it possible to burn fat. Basically, the body can only burn fat if it has carbohydrate or protein to help. This is essentially why losing weight generally means losing some muscle along with the fat (unless you take steps to counterbalance this).
Protein helps build and maintain muscle. In other words, it helps ward off the undesirable effects of getting fat off your body.
It is this last characteristic of protein, which is the main reason for its popularity in the health and fitness world. Whey is ideal for both use both pre- and post-workout.
Pre-workout, whey protein gets to work quickly and, as it is low in fat, it feels filling rather than heavy.
Post-workout the same qualities apply, plus you want to give your muscles some help to repair themselves and protein, particularly whey protein, is great for repairing muscles and for building lean muscle.
You can use different types of whey protein at different times and for different purposes, for example you may want to use whey protein isolate at workout times, to ensure the quickest action, but use whey protein concentrate (which is often cheaper) at other times, e.g. on rest days.
The only real problem with using whey protein is that as people have become more aware of just how useful it is, more and more companies have been piling in with whey protein products which, of course, vary widely in quality.
With that in mind, we've rounded up what we consider to be the best whey protein powders on the UK market.
How many shakes should you have in a day? Read our guide
Top 10 – Best Whey Protein UK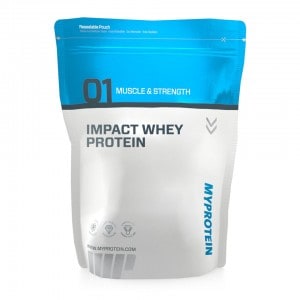 My Protein – Impact Whey Protein
Nutrition Breakdown
Servings Per Container – 40 (1kg), 100 (2.5kg), 200 (5kg)
Per 100g
Per Serving
*RI
Energy
1740 kJ/412 kcal
435 kJ/103 kcal
5%
Fat
7.5 g
1.9 g
3%
of which saturates
5.0 g
1.3 g
6%
Carbohydrates
4.0 g
1.0 g
0.5%
of which sugars
4.0 g
1.0 g
1%
Protein
82 g
21 g
41%
Salt
0.50 g
0.13 g
2%
* Reference intake of an average adult (8400 kJ/2000 kcal)
My Protein is the first time we've found an exception to the old saying: "If something seems too good to be true, the chances are that it probably is.". My Protein Impact Whey Protein comes in at the budget end of the market price wise, even taking delivery charges into account. Presumably part of the reason they're able to keep their price so low is because they are actually one of the UK's biggest suppliers of health supplements and rank well for the search term best whey protein uk. The quality is actually very reasonable, at 82% protein, which is one of the reasons why this brand gets so many positive reviews. Another major advantage of this brand is that they have all kinds of flavours (53 at current count) covering everything from Apple Crumble and Custard to White Chocolate, so not quite A to Z, but almost. They also offer some varieties flavoured with Stevia and if you just want unflavoured whey protein then they have that too.
Verdict – best protein powder uk? In terms of value for money, Impact Whey Protein is hard to beat and their range of flavours is astounding.
Read our full MyProtein best Whey flavour review
SALE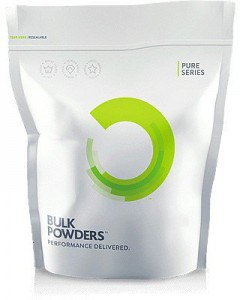 back to menu ↑
Bulk Powders – Pure Whey
Nutrition Breakdown
Unflavoured Pure Whey Protein™
| | | |
| --- | --- | --- |
| Nutrition | per 30g Serving | per 100g |
| Energy kJ/Kcal | 518/122 | 1708/402 |
| Fat of which saturates | 2g 0.76g | 6.67g 2.5g |
| Carbohydrates of which sugars | 1.5g 1.5g | 5g 5g |
| Fibre | Nil | Nil |
| Protein | 24.2g | 80g |
| Salt | 0.114g | 0.381g |
BCAA: 5.3g per serving
Glutamine: 4.2g per serving
It's rather harsh to describe Bulk Powders Pure Whey as being essentially a copy of My Protein Impact Whey Protein, but it is fair to say that the two brands have a lot of similarities. Bulk Powders Pure Whey is also priced at the affordable end of the market and likewise offers over 80% protein plus a wide range of flavours from Apple Crumble and Custard to White Chocolate, although in their case "only" 22, which is still very impressive. We also rather liked the "Mince Pie and Cream" edition they had for Christmas and are rather hoping they bring it back. Again, if you just want unflavoured, you can have that. Bulk Powders Pure Whey has won its own community of fans and gets plenty of praise. It genuinely is a high quality product.
Verdict – Bulk Powders Pure Whey is another product which offers great value for money with a very decent range of flavours.
Read our full, Bulk Powders company review HERE
BULK POWDERS Pure Whey Protein Powder Shake, Chocolate, 1 kg
Premium, high quality whey protein powder from a leading sport nutrition brand
Provides 22 g of protein per serving and is low in sugar, instantised for lump-free mixing
Rich in Glutamine and BCAA; essential amino acids
Ideal to use as a post workout alternative to shakes or as an indulgent, guilt-free snack
Available in a wide range of delicious flavours and sizes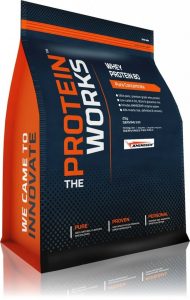 back to menu ↑
The Protein Works – Whey Protein 80
Nutrition Breakdown
| | | |
| --- | --- | --- |
| Values based on: | per 100g | per 25g serving |
| Energy (kJ) | 1680 | 420 |
| Energy (kcal) | 369 | 99 |
| Fat (g) | 6.8 | 1.7 |
| of which Saturates (g) | 5.6 | 1.4 |
| Carbohydrates (g) | 9.6 | 2.4 |
| of which Sugars (g) | 7.6 | 1.9 |
| Protein (g) | 78.4 | 19.6 |
| Salt (g) | 0.48 | 0.12 |
A new(ish) kid on the block, The Protein Works (TPW) seems to have been on a mission to breathe new life into the protein supplement market and Whey Protein 80 has certainly won both critical plaudits ("Best Protein Award" in the FSN Product Awards, 2014) and many fans who happily leave five-star reviews. It is over 80% protein and is known for being easy to mix and rich but light, even though it is completely free of thickeners. TPW has put a lot of work into developing some great flavours, with 12 available at the moment, plus it has an unflavoured option.
Verdict – Whey Protein 80 is a high-quality and reasonably-priced product from an exciting and up-and-coming company showing every sign of having a bright future. Certainly worth a look.
Read our full review of The Protein Works and their range HERE
SALE
back to menu ↑
USN – Whey Protein Premium
Nutrition Breakdown
2.28 Kilograms

Raspberry Smoothie

Serving Size: 1 Scoop (34g)

Servings Per Container: 67

Per 34g Serving

% RI *

Energy

545 kJ

–

129 kcal

6%

Fat

2.1 g

3%

Of Which Saturates

1.1 g

6%

Carbohydrate

3 g

1%

Of Which Sugars

1.8 g

2%

Fibre

2.2 g

Protein

24 g

47%

Salt

.4 g

6%

Minerals

Potassium

178 mg

9%

Calcium

149 mg

19%

Phosphorus

89 mg

13%

Magnesium

30 mg

8%
USN is a company which has built its reputation around providing premium products for people who are serious about health and fitness. Hence, although USN Whey Protein Premium is significantly more expensive than the brands we've mentioned so far, but that it because it is a significantly higher-grade product, even though the headline protein figure is somewhat lower at 70%. In other words, it's meant for people who really are working their bodies hard and need a whey protein powder which will support that. It has to be said that this emphasis on the use of whey protein powder as a tool is probably the reason why the choice of flavours is significantly more limited than with the other brands. At current time there are only 7, however, two of those are new, which may be a sign that USN is going to try and build up a bit more of a range of tastes. Interestingly there is an absence of an unflavoured option. Although the range of flavours is relatively limited, the tastes are very good.
Verdict – USN Whey Protein Premium is certainly one of the more expensive products in this list, but it justifies its price tag.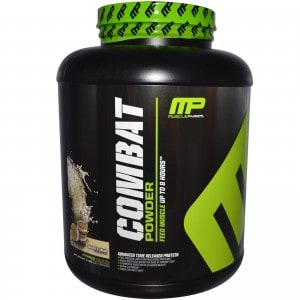 back to menu ↑
MusclePharm – Combat Powder
Nutrition Breakdown
2 Lbs.

Chocolate Milk

Serving Size: 1 Scoop (34.9 g)

Servings Per Container:

26

Amount Per Serving

Calories

130

Calories from Fat

15

%Daily Value *

Total Fat

1.5 g

2%

Saturated Fat

1 g

5%

Trans Fat

0 g

Cholesterol

46 mg

15%

Sodium

150 mg

6%

Potassium

270 mg

8%

Total Carbohydrate

5 g

2%

Dietary Fiber

1 g

4%

Sugars

2 g

Protein

25 g

Vitamin A

0%

Vitamin C

0%

Calcium

12%

Iron

2%
This is an example of a product, which was developed for a specific purpose, meaning that it's pretty clear cut to decide whether or not it's right for you. Combat Powder is intended for use by people who undertake high-intensity workouts and therefore want to feed their muscles for up to eight hours. This particular whey powder is very unusual in that it is a blend of three forms of whey protein, in other words it includes whey protein hydrolysate as well as whey protein isolate and whey protein concentrate. This means that some of the protein is released very quickly and some much more slowly, hence the long-lasting effect. There's a total 24g of protein per scoop, with a baker's dozen of flavours (13) albeit no unflavoured option. The flavours are a mixture of the usual suspects (banana and chocolate) and some more unusual ones (snickerdoodle and smores).
Verdict – It may sound like a cliche but if Combat Powder's for you, it's for you and if it's not it's not.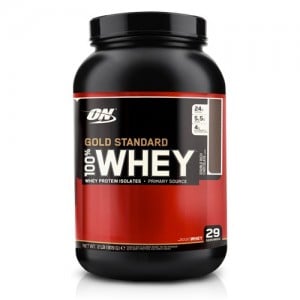 back to menu ↑
Optimum Nutrition – Gold Standard Whey Protein
Nutrition Breakdown
2 Lbs.

Banana Cream

Serving Size

1

Rounded Scoop

(31

g)

Servings Per Container

29

Per 31g

Energy

485

kJ

116 kcal

Protein

24.3

g

Total Carbohydrate

2.4

g

Of Which Sugars

1.4

g

Total Fat

1

g

Of Which Saturates

0.6

g

Of Which Trans Fat

0

g

Dietary Fiber

0

g

Sodium

115

mg
Some people may be looking at this heading and thinking "what took you so long?". Optimum Nutrition has been a well-respected name in the health and fitness world for, literally, decades. The company was founded in 1986 and its 30th anniversary was a major event for the company and its many fans. Gold Standard Whey Protein is one of its flagship products and although the name stays the same, the exact formula is always under scrutiny to ensure that it is as good as it can possibly be given the current state of scientific knowledge. In addition to its 24g of protein per serving, Gold Standard also provides 5.5g of branch chain amino acids (BCAA) along with 4G of Glutamine. BCAA and Glutamine are both extremely helpful when it comes to building and repairing muscle. Gold Standard comes in a reasonable 12 flavours, with birthday cake still being available after having been introduced for Optimum Nutrition's 30th anniversary. At this point, there's no unflavoured option.
Verdict – Gold Standard well deserves both it's name and it's legion of fans. It's become the standard by which other whey protein powders are measured.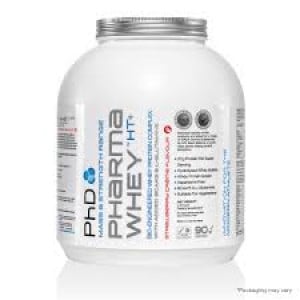 back to menu ↑
phD Nutrition – Pharma Whey
Nutrition Breakdown
| Typical Values | Per 100g | Per 25g serving (1 scoop) | Per 50g serving (2 scoops) |
| --- | --- | --- | --- |
| Energy (kJ) | 1628 | 407 | 814 |
| Energy (kcal) | 389 | 97.25 | 194.50 |
| Fat (g) | 4.50 | 1.125 | 2.25 |
| Of which saturates (g) | 2.40 | 0.60 | 1.20 |
| Carbohydrate (g) | 12 | 3 | 6 |
| Of which sugars (g) | 3.50 | 0.875 | 1.75 |
| Fibre (g) | 3.60 | 0.90 | 1.80 |
| ◦Protein (g) | 72 | 18 | 36 |
| Salt (g) | 0.60 | 0.15 | 0.30 |
The Pharma Whey formula is a blend of whey protein hydrolysate, whey protein isolate and whey protein concentrate for a long-lasting effect. It offers 74% protein, so 37g per 50g scoop along with BCAA, L-Glutamine and L-Leucine all of which are beneficial to the muscles. It has to be said that the range of flavours is rather restricted. At the moment there are only 6 of which three are a variation of chocolate and there is no unflavoured option. Having said that, what flavours there are do taste good. It also has to be noted that this product is at the higher end of the price spectrum, presumably due to the presence of whey protein hydrolysate. If you're counting your pennies, you may wish to keep this one for a post-workout shake and use something more affordable the rest of the time.
Verdict – If you can live with the restricted range of flavours and are looking for a premium product then Pharma Whey could be a good choice.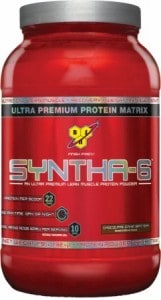 back to menu ↑
BSN – Syntha-6
Nutrition Breakdown
Banana
NUTRITION FACTS
Serving Size 1 Rounded Scoop (47.2g)
Amount Per Serving

Calories 200

Calories From Fat 50

%Daily Value

†

Total Fat 6g
9%
Saturated Fat 2g
10%
Trans Fat 0g
Cholesterol 55mg
18%
Sodium 180mg

8%

Potassium 180mg

5%

Total Carbohydrate 14g

5%

Dietary Fiber 5g

20%

Sugars 2g
Protein 22g

44%
We have to say upfront that Syntha-6 from BSN has the smallest range of flavours of any of the products in our list, in fact there are only three of them and no unflavoured option, but the three do taste good, really good. In fact they taste good enough to pass for a premium milkshake good. Because of this, rather ironically, taste is one of the biggest selling points of Syntha-6. If, however, you just wanted a milkshake, you could get one for a whole lot less than the price of an equivalent quantity of Syntha-6. Therefore, it's good to know that Syntha-6 delivers 22g of protein with each scoop along with a healthy 10g of amino acids.
Verdict – Some users may be put off by the fact that there are only three flavours, however good they are, but if you're OK with that, this is an all-round product, which delivers very decent results at a reasonable price.
back to menu ↑
Reflex Nutrition 100% Whey
Nutrition Breakdown
2 Kilograms

Strawberries & Cream

Serving Size 1 Scoop (35 g)

Servings Per Container

57

Per 31g

Energy

603 kJ

–

142 kcal

Total Fat

2.5 g

Of Which Saturates

1.7 g

Total Carbohydrate

4.8 g

Of Which Sugars

1.5 g

Protein

24.5 g

*

Salt

.17 mg
The packaging for 100% Whey from Reflex Nutrition, has a slightly science-fiction-ish look about it, which is in keeping with the company's motto of 'Tomorrow's Nutrition Today'. Reflex Nutrition is clearly very proud of its manufacturing process, which it believes delivers a superior product to its competition. In addition to its 24g of protein, each serving contains 5g of BCAA and the product is also high in Leucine. There are only 4 flavours available at the moment and no unflavoured version. Having said that, the price is very reasonable and the product has been well-reviewed.
Verdict – 100% Whey is more than just pretty packaging. If you're happy with a small range of flavours or want a more affordable, but still high-quality, product to rotate with a more expensive counterpart, then 100% Whey is well worth considering.
back to menu ↑
The Verdict – Best Whey Protein UK
All the items on this Best Whey Protein Powder UK list are well worth a try and each offers great value in terms of results – One thing that is for sure is they all taste great and that is one reason behind their inclusion here. However, one thing that is impossible to gauge is personal preference. Our suggestion is to use this article as a guide and maybe switch through 2 or 3 in your price range to see which flavour suits you best.
The right whey protein powder for you essentially depends on a combination of your budget, your goals and the way in which you wish to use your whey protein powder (which depends upon your goals). You may find that the best solution for you is to use different powders for different purposes.
Breakfast – assuming you'll be having some sort of gap between eating and training, even if only traveling time, you could use more affordable whey protein powder with a higher calorie content.
Pre-workout – in an ideal world, you'd want to use a very high-protein whey protein powder here, but in the real world, if you're on a tight budget, you could use somewhat lower-protein whey protein powder, just watch the calorie, sugar or any other unwanted content levels.
Post-workout – if at all possible, this is when you really want to use the highest-quality whey protein powder you can afford, so your muscles get all the help you can give them.
back to menu ↑
What's Best Whey Protein Powder? Here Is Amazons Best Sellers
| # | Preview | Product | Rating | Price | |
| --- | --- | --- | --- | --- | --- |
| 1 | | Optimum Nutrition Gold Standard Whey Protein Powder Muscle Building Supplements with Glutamine and... | 3,043 Reviews | from £12.99 | Click For More Details |
| 2 | | Optimum Nutrition Gold Standard Whey Muscle Building and Recovery Protein Powder with Glutamine and... | 2,974 Reviews | £44.79 | Click For More Details |
| 3 | | BULK POWDERS Pure Whey Protein Powder Shake, Vanilla, 1 kg | 1,533 Reviews | from £11.81 | Click For More Details |
| 4 | | Optimum Nutrition Serious Mass Protein Powder High Calorie Mass Gainer with Vitamins, Creatine and... | 1,946 Reviews | £38.88 | Click For More Details |
| 5 | | Optimum Nutrition Gold Standard Whey Protein Powder Muscle Building Supplements with Glutamine and... | 3,064 Reviews | from £12.99 | Click For More Details |
| 6 | | PBN Whey Protein Powder 1kg Vanilla | 296 Reviews | from £12.99 | Click For More Details |
| 7 | | PBN Whey Protein Powder 1kg Cookies & Cream | | £12.99 | Click For More Details |
| 8 | | PhD Nutrition Diet Whey Protein Powder, Belgian Chocolate, 2 kg | 1,380 Reviews | from £11.99 | Click For More Details |
| 9 | | Optimum Nutrition Gold Standard Whey Protein Powder Muscle Building Supplements with Glutamine and... | 3,064 Reviews | £22.49 | Click For More Details |
| 10 | | BULK POWDERS Pure Whey Protein Powder Shake, Chocolate, 1 kg | 179 Reviews | £21.99 | Click For More Details |