Vibration plates have been big in the health and beauty industry for quite some time now, but, up until fairly recently, if you'd wanted to use a vibrating plate, you'd usually have a need to go to a public facility such as a gym or spa.
Now, however, vibration plates are available to use in the comfort, convenience and privacy of your own home.
In this article, we'll talk you through everything you need to know about vibrating plates. We'll separate the facts from the fiction so you can take a properly informed decision about whether or not vibration plates are right for you.
Once you've read this article, you'll have a complete understanding of how vibrating plates work and what that means in practical terms for your health and fitness.
We'll cover the science behind vibration plates and give you a guide to what you need to check when buying a vibration plate.
We'll also give you a list of vibration plates which we're happy to recommend (and which are actually available in the UK right now).
Got The Plate Already? Take A Look At Our Best Vibration Plate Exercises Guide
Top 4 – Best Vibration Plate Reviews
Understanding vibrating plates
Vibration plates have been around since at least the early 1990s but it's probably fair to say that it took quite a while before they really started to be taken seriously and, frankly, this was probably due to the way they were initially promoted.
A lot of the early adverts pushed vibrating plates as an effortless way to lose weight and their claim was, rightly, treated with scepticism. Ironically, if they had actually just explained what vibration plates can actually do, they might have been taken seriously long before now.
There are different kinds of vibrating plates on the market, but essentially they all work on the same principle. A vibrating plate forces your muscles to contract and relax, in the same way as they do when you're exercising, therefore just by standing still on them, you get the effect of exercise without the panting and sweat. This is actually fundamentally true, it was just vastly overhyped.

Let's get down to the facts. Most forms of exercise can be done with different degrees of intensity. For example, you can go for a stroll, a brisk/power walk, a jog or a run. All of these will burn calories and tone muscles to some extent, but, as is generally the case in life, the more effort you put in, the more you will get out, or, in the case of fat, off.
Exercising with vibration plates works exactly the same way. At the most basic level, vibration plates offer little more than a moderately brisk massage, although the difference is enough that it could just about qualify as exercise.
At the most intense level, vibrating plates can actually for, the basis of a serious workout, which can really keep you in shape and of course there are varying degrees in between.
Vibration plates for health and fitness (or dispelling the myths about vibrating plates)
At their most basic level, vibration plates are essentially massage devices, just like massage chairs and massage beds. Their main benefit is to stimulate the circulation and, in some cases, this is a huge health bonus, in fact, it can be exactly what people need to start the journey back to fitness.
Remember, your bloodstream is what carries oxygen and nutrients where they are needed by your body and also plays a role in transporting waste and toxins out of your body.

Poor circulation can be caused by various factors, one of which is lack of mobility, especially if that means you spend a lot of time sitting or lying (e.g. in an airplane or a bed). This then creates a vicious circle in that poor circulation can be a significant barrier to exercise, but exercise can massively help to improve circulation.
Massage can really help people to break out of this cycle and in all honesty, it doesn't really matter how it's delivered. The advantage of vibrating plates, however, is that they can play a role in further rehabilitation and taking your fitness to the next level (and beyond if you wish).
Once you get beyond this basic level, then, bluntly, you need to put in some more work. If you're still harbouring doubts about using a vibration plate for serious fitness, then let us put it this way.
The way to get the absolute maximum out of these machines is to treat them essentially as a platform for step aerobics – a platform that moves! Still think we're joking about the fact that they can really make a difference to your fitness?
Choosing the best vibration plate for you
Here are the key points you need to look at when thinking about buying a vibrating plate.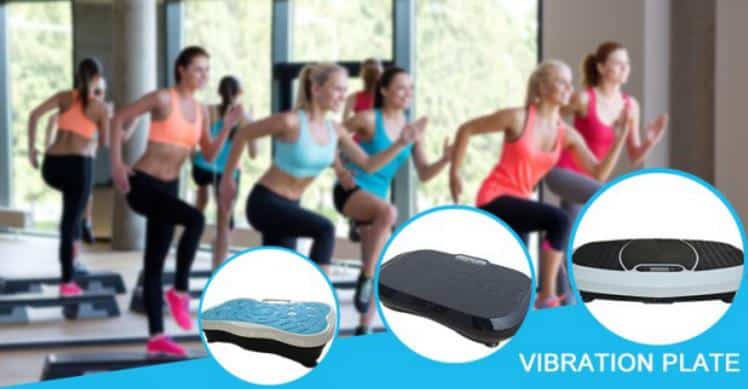 Overall size
Vibration plates tend to come in two main types, platform vibrating plates and mini vibrating plates, although they may be given different names for marketing purposes. Platform vibration plates are the ones you may have seen in gyms and spas, they look rather like treadmills but without the full running platform.
Mini vibration plates are just the plates without the console and hand straps. Obviously, these two types of vibrating plates are of very different sizes and even vibration plates of the same type come in a range of sizes.
Plate size
Basically, you need the plate to be big enough for you to be able to do whatever it is you want to do, whether that's just balancing on the machine or undertaking a programme of exercises. What that will mean in practice will depend on your physique and your goals.
Motor size and quality
Rather than get into technicalities here, we'll just say that, like the plate, the motor has to be big enough to handle its task. Ideally, it should also be quiet enough to do so without annoying either you or the neighbors.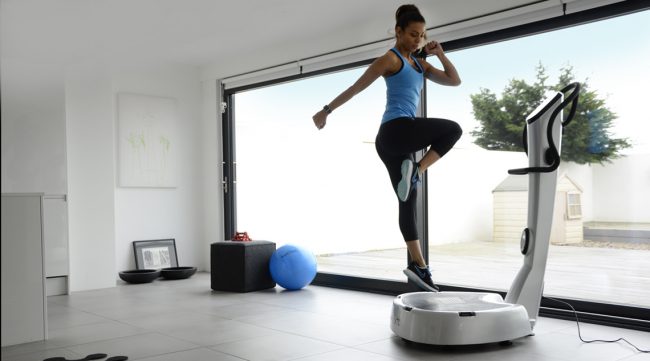 Maximum user weight
All machines will have a maximum supported user weight, which will essentially depend on the power of the motor since heavier people require more horsepower to move.
Type of vibration
This is where life can get interesting. There are basically two forms of vibration mechanism in common use, one is oscillation and the other is tri-plane.
Oscillating vibration plates
In simple terms, oscillation just means a seesaw motion, although from side to side, rather than up and down as on a child's seesaw. The basic idea is that you maintain a static position while the vibrating plate moves and the effort of doing so either provides or enhances your work-out.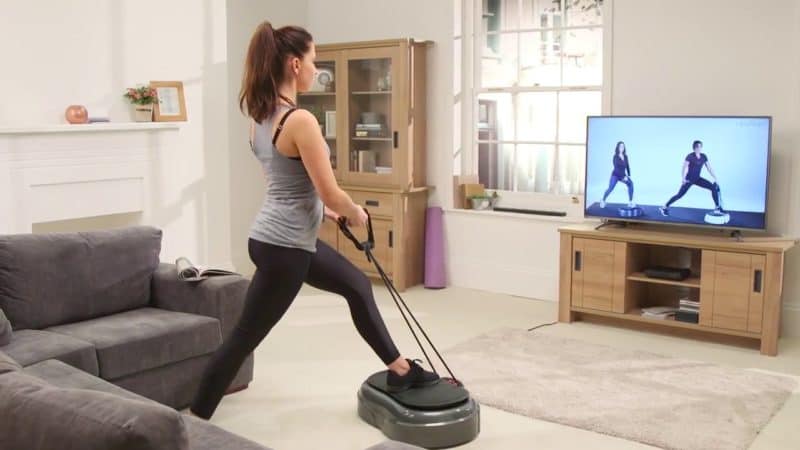 Oscillating vibration mechanisms are by far the most common in the vibration plates found in beauty salons and in the home market. If you simply maintain a static position on them, you will get a boost to your circulation and, if you use them regularly, you may lose some weight and will probably see an improvement in muscle tone, especially in your lower body, which will give you a slimmer figure. That, however, is about all you can expect.
If, however, you use these vibration plates as aerobic exercise platforms, then you can certainly achieve meaningful results with them and they are both cost-effective (as compared to a gym) and time-effective (both compared to a gym and compared to other forms of home exercise).
Tri-Plane vibrating plates
As their name suggests, tri-plane vibration plates vibrate along three planes. As well as going from side to side as oscillating vibrating plates do, they also go up and down, back and forth and from side to side. This means that they can offer a much more intense workout, which is why they are the choice of gyms and people who are serious about home fitness.
Even if all you do is maintain a static position on the plate in the same way as you would on an oscillating vibration plate, you're still going to be working harder than you would on an oscillating vibrating plate and hence see more significant returns more quickly. If you use the plate as an exercise platform and actually work out on it, then you can really challenge yourself.
In short, oscillating vibration plates are the best vibration plates for rehabilitation while tri-plane vibrating plates are, objectively speaking, the best vibrating plates for weight loss and as serious fitness aids.
Having said that, tri-plane vibration plates are significantly more expensive than oscillating vibrating plates and so you could say that for most people oscillating vibrating plates are the best vibration plates for weight loss in terms of value for money judged as cost per pound lost.
Frequency rate
We'll give you the simple explanation first and then you can read the technical bit if you want to. Lower frequencies make for a gentler work-out and higher frequencies make for a more intense work-out.
In technical terms, frequency relates to the speed at which the plates move. It is usually measured in Hertz (Hz) or impulses per second, so, for example, if a machine has a maximum frequency of 60Hz, it means that the plate can vibrate 60 times per second.
Amplitude
This is the distance the plate travels from its lowest point to its highest point. It is generally measured in millimeters and may be adjustable. If it is, lower amplitude makes for an easier work-out and higher amplitude makes for a more difficult work-out.

Bars and hand straps
Bars are a matter of taste, basically you either like them for the feeling of reassurance and safety or you dislike the fact that they add bulk to the machine. Hand straps transmit the vibrations to your upper body and hence can add an extra dimension to your work-out. You can actually work-out your upper body by putting your hands on the plate but hand straps give you extra options.
Console/display/remote control
Platform vibration plates usually have consoles whereas mini vibration plates may have displays and/or tend to have remote controls. In either case, if there's a display it should be easy to read and any control should be simple to understand and use.
Pre-set programmes/exercise guides
Like bars and hand straps, pre-set programmes and exercise guides are a matter of taste and there is plenty of information on the internet to help you get the most out of your vibrating plate.
Accessories
Similar comments apply here, you can usually buy some form of cushioning to go on top of the plate to dampen the feeling of the vibrations on your skin if you wish and this could be useful if you want to put your hands on the plate, but then again, the vibrations may not bother you.
Build quality and warranty
It may seem strange to put this last but in our experience if a vibration plate has good specs, a realistic price and a decent and credible warranty, then the build quality is probably perfectly decent. As always let the buyer beware and read the description carefully, in particular make absolutely sure you know what kind of vibration a vibrating plate uses.
Vibration plate reviews
It may sound like a massive cliche but it really was very difficult for us to pick a list of the best vibration plates for us to recommend, but we've finally done it and here they are.
Once You Have The Plate Check Out The Best Vibration Plate Exercises Guide
Best Mini Vibration Plates
Bluefin Fitness Vibration Plate Ultra Slim – oscillating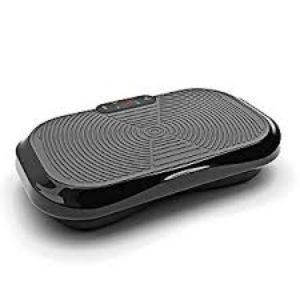 Platform Vibration Plates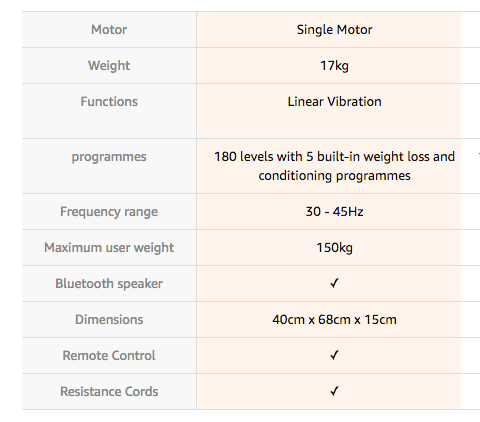 This may well be the biggest-selling vibration plate on the UK market and it's easy to see why. As a mini vibration plate, it can be used in the smallest of spaces and its maximum user weight of 150 Kg should be more than enough for most people. It's also beautifully quiet in operation, unless you choose to blast out a beat via the integrated Bluetooth speaker.
It has a clear display, straightforward remote control, optional hand straps and an easy-to-follow exercise guide to supplement the 5 preset programmes. There are no fewer than 180 levels of intensity and you can use them with confidence on the anti-slip surface.
Bluefin Fitness Ultra Slim Vibration Plate | Lose Fat & Tone Up at Home | 5 Programs + 180 Levels | Bluetooth Speakers | Easy Storage | Sleek UK Design (Black)
BATTLE FAT & BEAT THE BULGE WITH LATEST IN VIBRATION PLATE TECHNOLOGY - Silent vibro drive motor for no-noise fitness workout in a super slim plate...
LOVE YOUR BODY & YOUR WORKOUT - Huge anti-slip surface for effective exercise you'll enjoy! Easily position yourself on the vibro plate and get ready...
100% SATISFACTION OR YOUR MONEY BACK - Our brilliant customer service will help you get started with home fitness. Bluefin's unbeatable lifetime motor...
FULLY LOADED HOME FITNESS PACKAGE - Booming Bluetooth speakers, Diet & Nutrition guides created by vibration plate fitness & exercise machine experts,...
FITNESS OPTIONS YOU'LL USE! - Ultra Slim spoils you with choice! Feel the vibra power with 180 levels of vibration speed. 5 In-built programmes will...
back to menu ↑
Gym Master 2700W Crazy Fit Vibration Massage Plate – oscillating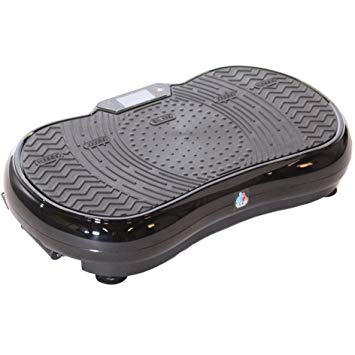 Platform Vibration Plates
Input voltage: 240v
Rated frequency: 50-60hz
Peak power : 2700w
Speed range: 200 levels
Programs: 6 automatic + 1 manual (7 total)
User weight capability: 110 kgs
Product size:67.0×38.0x12.5cm
If you only want a vibration plate for light and/or occasional use, then this is a solid, budget-friendly option, which supports users of up to 120 Kg. The display is clear, the remote control simple and there are hand ropes. While it lacks advanced functionality there are still 120 speed levels and 6 preset programmes. We get the impression that this vibration plate is really meant for medical users and/or older people and think it would be a very good choice for either user group.
back to menu ↑
JTX SLIM-FIT: HOME VIBRATION PLATE – Tri plane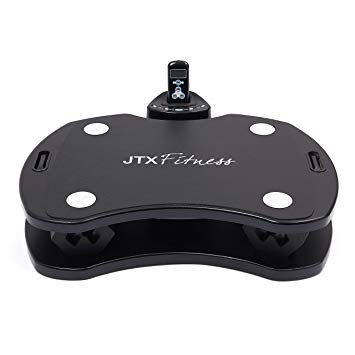 At the other end of the scale, we have the JTX Slim Fit, which is advertised as a home vibration plate, but is definitely styled along the lines of the machines you find at gyms, hence the fact that it's a tri-plane vibration plate as opposed to an oscillating vibration plate. The maximum user weight is 120 Kg.
To be honest we're not overwhelmed with enthusiasm for the design, but we can live with it and the platform has a non-slip surface and clear display, which is what really matters. As well as he standard remote control and hand straps, you also get an exercise poster and a DVD. Apparently there is also phone support which allows you access to a personal trainer but we didn't test that. The vibration supports 3 Workout programs, 4 Speed settings (35- 50Hz) and 1.5-1.8 Amplitude.
Platform Vibration Plates
ZAAP TX-5000 Power Vibration Trainer – oscillating
Machine size : 70 x 60 x 122 cm
Machine weight 28kg
This is the platform equivalent of the Bluefin mini vibration plate in that it's probably the most popular platform vibration plate in the UK market today as it does a great job of hitting the sweet spot between affordability and functionality.
The plate itself is big enough to be comfortable for most people, certainly people up to the maximum supported user weight of 120 Kg. There are bars rather than hand straps and while we find the console a bit garish, it's easy enough to read and use.
One big plus about this vibration plate is that it stays nicely quiet in use, even at the upper end of its 50 incremental speed settings and while there are only three preset programmes, it's very easy to find work-out suggestions online.
SALE
back to menu ↑
Power Plate MY3 – Tri plane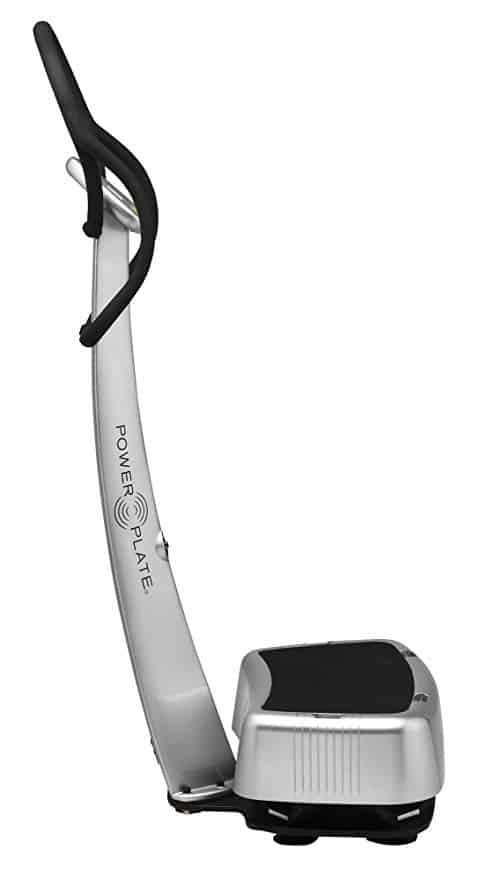 Platform Vibration Plates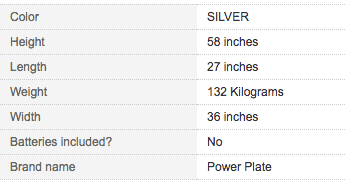 All we're going to say about this model is that if you are prepared to pay top price for top performance then this should be your top pick, but we suspect that for most people it will be far too expensive right now (2018). What you could do, however, is buy another vibration plate for now and wait for this to become "last season's model" at which point the price will hopefully drop to a more attractive level.
Power Plate MY3
Large platform area: for increased manoeuvrability and exposure to vibrations
Frequency: 35Hz
Compact design: space-efficient
Vibration energy output: high or low
PrecisionWave technology: High-fidelity harmonic vibration system for uncompromising performance
Overall – best vibrating plate
In short, as always, the best vibrating plate is the one which best suits you. The Gym Master is likely to suit light users, such as medical users and/or older people. The Bluefin is probably the best all-round option for general home use, especially in home spaces, while the JTX will suit people who want gym quality in their own home, but still at a reasonable price.
The ZAAP is the platform equivalent to the Bluefin. If you want decent performance at a wallet-friendly price, then we'd say this is the option to choose. By contrast, the Power Plate is currently a luxury-level dream machine, but hopefully the price will come down in future.