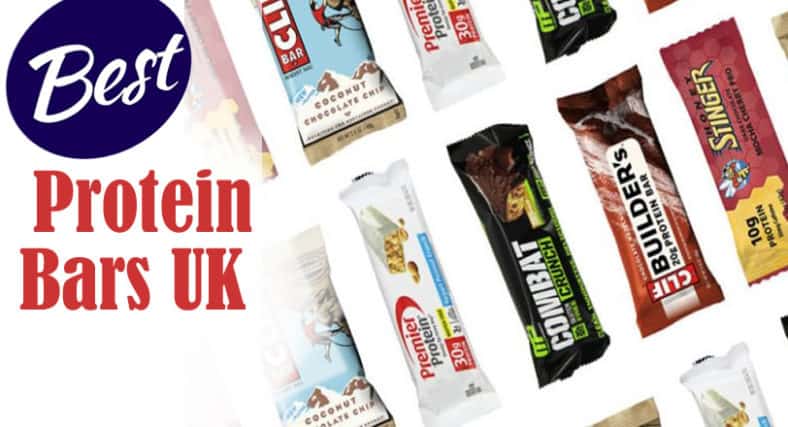 Quick Jump To List
For years we've been encouraged to avoid snacking between meals, but actually snacking can be very beneficial for our bodies, in fact for some people it may be essential.
When people speak about snacking in negative terms, what they really mean is "junk food snacks", like crisps and sugar-filled confectionery.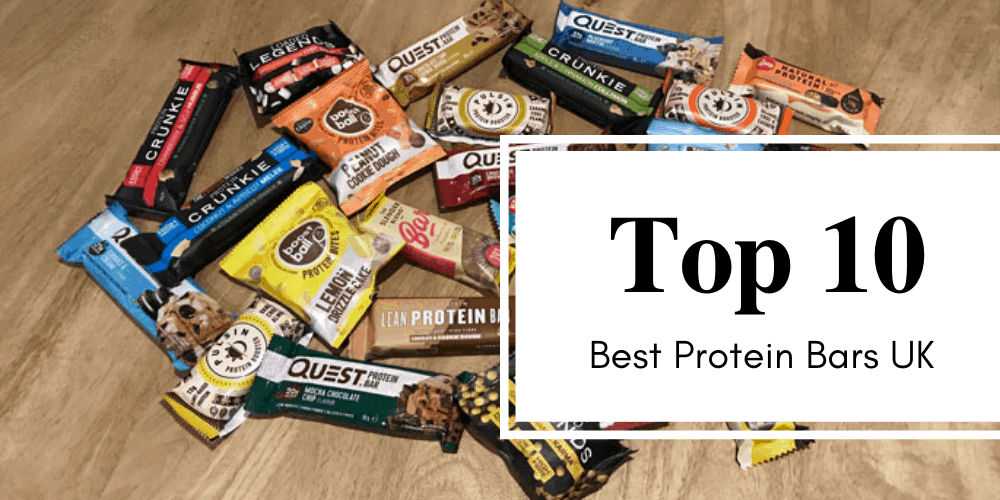 Used well, healthy snacks, such as protein bars, can help keep our bodies on an even keel throughout the day, avoiding highs and lows whether that's sugar rushes or unhealthily low blood sugar or going from feeling stuffed full to being ravenously hungry.
This is where our guide to the best protein bars UK really comes into play
Protein-based snacks are particularly effective at keeping our bodies well regulated since protein slows down the digestive system and hence helps to ensure that nutrients are released steadily rather than all at once.
It is particularly good at managing the release of sugars, which is why it is important that diabetics consume sufficient protein (and very helpful to those working on losing weight).
Snack bars are a very convenient way for people to make sure they get sufficient protein at the right times of day since they are easy to carry and can be eaten on the move without any need for mixing and shaking.
High-quality protein bars combine a lot of nutritional value with a great taste and a pleasant texture.
Unfortunately, the popularity of protein bars has meant that the market has become filled with a number of lower-quality bars, which may taste good but actually do very little good for your body.
Therefore, to help you make the right choice, we've compiled a list of what we consider to be the best tasting protein bars UK.
Read Our Guide To Making Your Own Protein Bars Here
Best Protein Bars UK
Grenade Carb Killa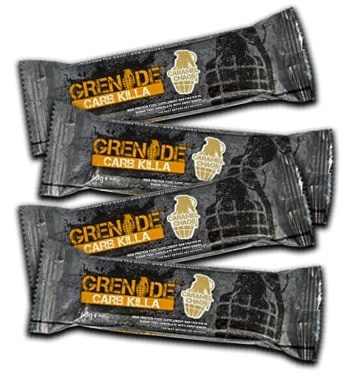 Nutritional Information
| Nutrition | 100g | 60g |
| --- | --- | --- |
| Energy (kj) | 1493 | 896 |
| Energy (kcal) | 357 | 214 |
| Fat | 13.2g | 7.9g |
| Of which saturates | 6.9g | 4.2g |
| Carbohydrate | 22.5g | 13.5g |
| Of which sugars | 2.4g | 1.4g |
| Of which polyols | 17.7g | 10.6g |
| Fibre | 11.1g | 6.7g |
| Protein | 38.7g | 23.2g |
| Salt | 0.75g | 0.45g |
The clue is in the name, each of these bars contains an impressive 23g of protein but only 1.5g of carbohydrates.
Not only do these bars offer a lot of nutritional value in a convenient package, but they also come in a range of 8 flavours and Grenade uses a special baking process to give them a softer but crunchier texture when compared to many other protein bars on the market.
Verdict - If you've been put off protein bars due to the fact that they tend to have a rather dense texture, then these could be the bars to change your mind.

Massive 21g high quality protein per flapjack
Available in 2 delicious flavours
High in fibre & low in saturated fat
Provide a great source of dietary fibre at nearly 10g per bar
Deliver quality carbohydrates from rolled and malted oats
Last update was on: November 20, 2023 8:21 am
Massive 21g high quality protein per flapjack
Available in 2 delicious flavours
High in fibre & low in saturated fat
Provide a great source of dietary fibre at nearly 10g per bar
Deliver quality carbohydrates from rolled and malted oats
BSN Syntha 6 Protein Bars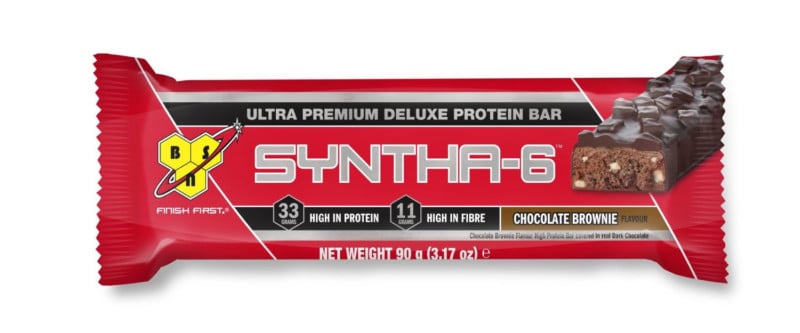 Nutritional Information
Energy: 931 kJ / 222 kcal
Fat: 7.6 g

of which Saturates: 5.3 g

Carbohydrate: 21 g

of which Sugars: 3.6 g
of which Polyols: 17 g

Fibre: 7.4 g
Protein: 20 g
Salt: 0.39 g
The BSN brand will be familiar to anyone with an interest in bodybuilding and/or weightlifting.  This brand carries huge respect amongst practitioners of these sports and has a well-deserved reputation of knowing a thing or two about building and repairing muscle.
It's unsurprising then, that their bars are a generous 90g, of which 30g is high-quality protein based on whey isolate but with the addition of Casein for a long-lasting effect.
There are only three flavours, but they're good ones.
Verdict - These bars are super-filling and really intended for power users, but there's nothing to stop you cutting them in half or thirds if you want the quality in a smaller portion.
Bulk Powders High Protein Snack Bars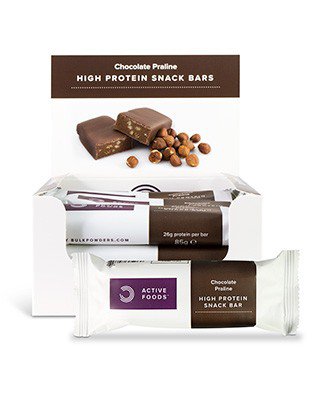 Nutritional Information
Strawberries & Cream
Nutrition
per 85g Serving
per 100g
Energy kJ/Kcal
1101/263
1295/310
Fat
of which saturates
6.1g
4.3g
7.2g
5.1g
Carbohydrates
of which sugars
24g
3.5g
28g
4.1g
Fibre
15g
18g
Protein
27g
32g
Salt
0.17g
0.2g
You know what to expect from Bulk Powders.  Decent quality and an affordable price making excellent value for money.  Their High Protein Snack Bars are on the larger side at 85g and contain either 26g or 27g of protein and 15g or 16g of fibre, depending on the flavour.
In spite of the low price, the protein comes from a combination of whey protein concentrate and milk protein isolate, so these are still nutritionally-valid products.
They come in three flavours, all of which have garnered a number of positive reviews from customers.
Verdict - Another winner from Bulk Powders.  These bars will appeal to a wide range of customers from people just wanting to top up their protein levels so that they can manage their weight to serious athletes who will probably want to use these High Protein Snack Bars in combination with products from the upper end of the market.
It's really hard to argue with the value for money these bars offer.
Maxinutrition Protein Bars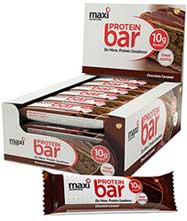 Nutritional Information
| | | | |
| --- | --- | --- | --- |
| Typical Values | Units | Per 100g | Per 60g bar |
| Energy | kJ | 1407 | 844 |
| Energy | kcal | 336 | 202 |
| Protein | g | 33.3 | 20.0 |
| Carbohydrate | g | 32.2 | 19.3 |
| of which sugars | g | 15.7 | 9.4 |
| Fat | g | 8.1 | 4.9 |
| of which saturates | g | 4.7 | 2.8 |
| Fibre | g | 11.7 | 7.0 |
| Sodium | g | 0.6 | 0.4 |
| Vitamin D | mcg | 1.7 | 1.0 |
| Magnesium | mg; | 144.2 | 86.5 |
These Protein Bars from Maxinutrition are the second smallest on our list, coming in at 45g and offering 10g of protein per bar.
The unique characteristic of these bars is the addition of vitamin C, which has a number of benefits including enhancing energy levels.
At present time, these bars only come in two flavours, summer fruits and chocolate caramel.  The former has a crispy centre while the latter has a smooth texture.
The Protein Works – Protein Grazer Bars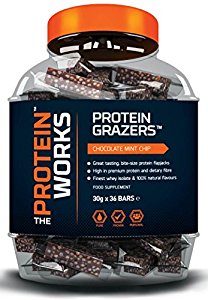 Nutritional Information
| | | |
| --- | --- | --- |
| Values based on: | per 100g | per 30g Bite |
| Energy (kJ) | 1511 | 453 |
| Energy (kcal) | 361 | 108 |
| Fat (g) | 8.3 | 2.5 |
| of which Saturates (g) | 2.9 | 0.9 |
| Carbohydrates (g) | 47.3 | 14.2 |
| of which Sugars (g) | 8.6 | 2.6 |
| Fibre (g) | 9.6 | 2.9 |
| Protein (g) | 24.8 | 7.4 |
| Salt (g) | 0.20 | 0.06 |
Coming in at 30g, these are the smallest bars on our list and hence contain the least amount of protein per bar at 7g to 8g, depending on the flavour.
The size plus the fact that the Protein Grazer Bars are presented in a jar rather than a cardboard box, helps to give the impression that they are bite-sized treats rather than healthy snacks full of whey-isolate protein and low GI oats for extra dietary fibre.
Actually, they're both, as they are available in six, delicious flavours as well as a "random" option, which gives you a mix and makes them a great contenter to be the best protein bar in the UK.
Verdict - We think The Protein Works is on to a winner here.  They've managed to turn a health product into a real treat.
If you need more than the 7g/8g of protein each one provides, you'll probably be quite happy to have a good reason to enjoy another.
Read Our full My Protein Company Review HERE
CNP - ProFlapjacks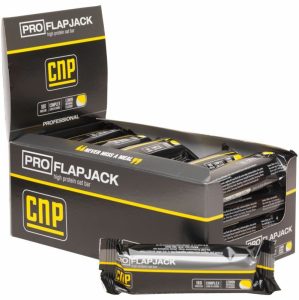 Nutritional Information
Nutritional Information
100g
per 75g bar
Energy
1624kj/385kcal
1218kj/289kcal
Protein
24.0g
18.0g
Carbohydrate
of which sugars
of which polyols
51.5g
3.4g
16.8g
38.6g
2.6g
12.6g
Fat
of which saturates
9.2g
3.8g
6.9g
2.8g
Fibre
3.6g
2.7g
Sodium
0.060g
0.045g
Salt
0.015g
0.011g
Possibly the single, biggest difference between CNP's ProFlapjacks protein bites and the majority of protein bars on the market is that ProFlapjacks contain Casein as well as whey.
The whey element gets to work quickly, while the Casein is released slowly, hence together they create an effect which is both quick and long-lasting.
Unlike standard flapjacks, ProFlapjacks are low in both carbohydrates and sugar.  Like standard flapjacks, they are very tasty, with four flavours available.
Verdict - The inclusion of Casein really does set these bars apart from the crowd.
If you have a serious hole you need to fill, but still want to enjoy what you're eating, these protein bars could be a great choice.
Optimum Nutrition Complete Protein Bar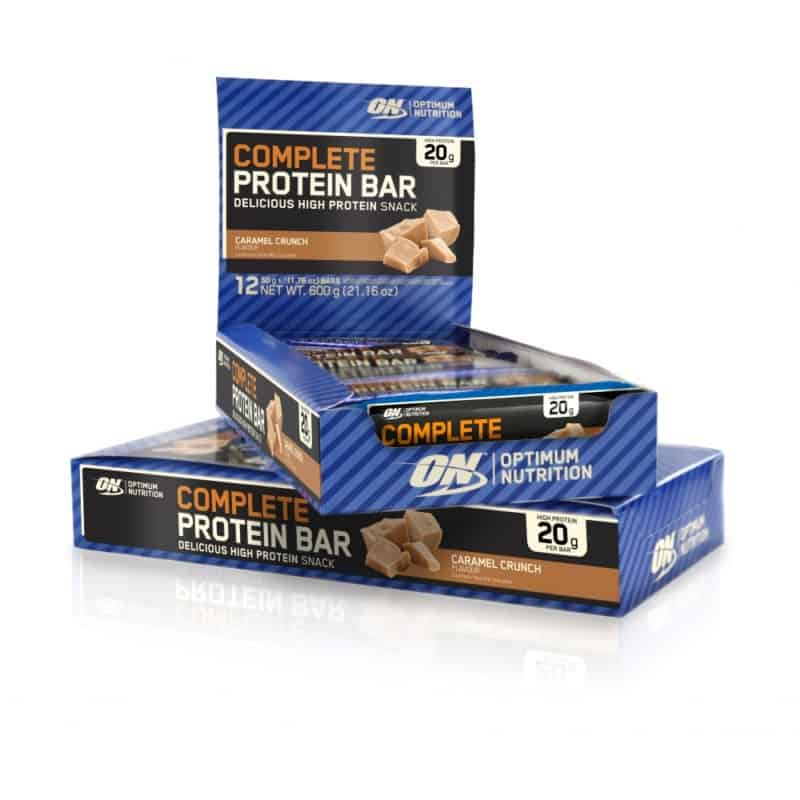 Nutritional Information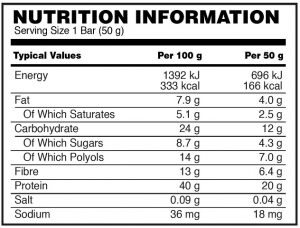 Optimum Nutrition is possibly the most famous brand in the health and fitness industry and has built its brand around its ability to develop the finest products, combining outstanding nutritional value with excellent taste.
Their Complete Protein Bars tick every box here, providing an impressive 20g of protein per 50g bar.  The main source of protein is hydrolysed whey protein isolate so these bars are really fast acting.
Best of all, while the names of the three flavours may suggest that they're loaded with calories, each bar actually contains less than 200 calories.
Verdict - It's pretty near impossible to go wrong with any product from Optimum Nutrition.  They've never tried to be the lowest-priced brand around, but the quality always justifies the price.
PhD Nutrition Diet Whey Bars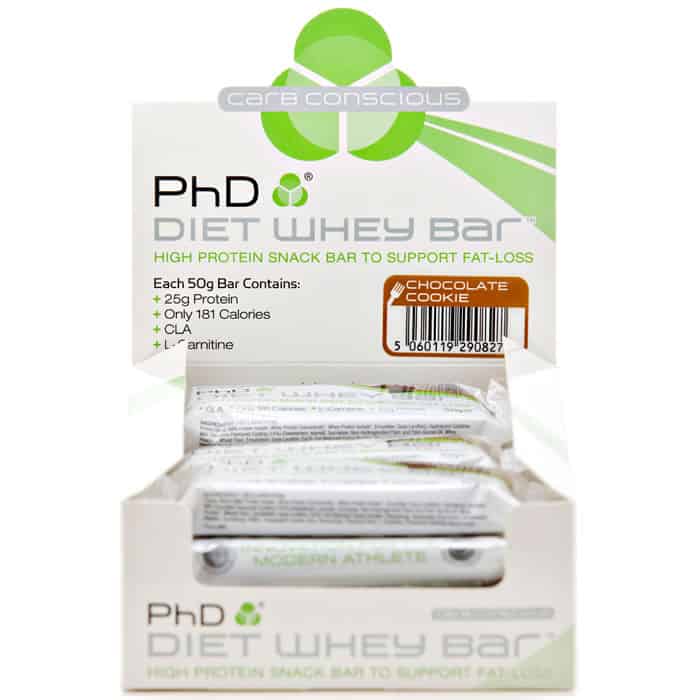 Nutritional Information
Typical Values
Per 100g
Per 50g bar
%RI* per 100g
Energy (kJ)
1485
742
Energy (kcal)
355
177
Fat (g)
9.0
4.5
Of which saturates (g)
4.7
2.4
Carbohydrate (g)
28
14
Of which sugars (g)
1.4
0.7
Fibre (g)
1.2
0.6
Protein (g)
50
25
Salt (g)
0.25
0.13
MINERALS:
Phosphorus (mg)
243.2
121.6
35
Chromium (µg)
434.2
217.1
1086
As their name suggests, these Diet Whey Bars from PhD Nutrition have been developed with dieters in mind, although there's nothing to stop them being used as a regular protein snack.
Each 50g bar contains 25g of protein and only 1g of sugar.
The protein is a combination of whey protein(isolate and concentrate) and milk protein (isolate). they also have extra nutritional properties in the shape of branch-chain amino acids (BCAAs), L-Glutamine, CLA, L-Carnitine, flaxseed and chromium.
The bars come in four flavours although three of them are variations on the theme of chocolate.  There is, however, also a strawberry cheesecake version for anyone who prefers to avoid chocolate.
Verdict - Although these protein bars are marketed at dieters, they are nutritionally solid and can be used by anyone.
Reflex Nutrition R-bar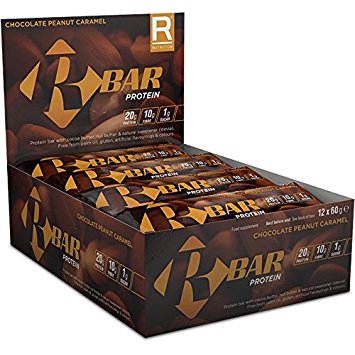 Nutritional Information
Double Chocolate Brownie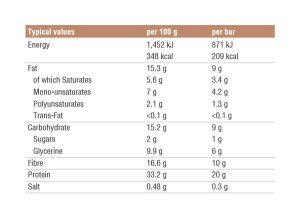 Reflex Nutrition has found a niche for itself creating products which are both nutritionally sound and suitable for those who want their food to be as natural and environmentally-friendly as possible.
Hence the 20g of protein in each 60g bar comes from a combination of milk protein from cows which are both grass fed and raised without the use of growth hormones and nut butters (peanut and almond).
Basically if it's artificial, it's out of these bars.  The R bars come in 6 flavours, with peanut caramel being particularly popular.
Verdict - These are highest-quality bars produced to the highest standards.  They are a good choice if you simply want an effective and tasty protein bar and a great choice for anyone who wants to eliminate artificial ingredients from their diet.
Quest Nutrition Protein Bars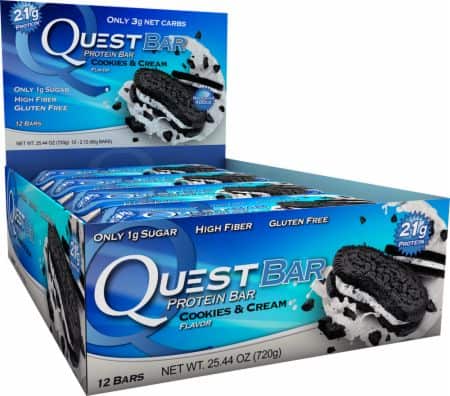 Nutritional Information
Blueberry Muffin Flavour
Amount/Serving
Calories 190
Calories from Fat 60
%Daily Value*
Total Fat 6g
9%
Saturated Fat 2.5g
13%
Trans Fat 0g
Polyunsaturated fat 0g
Cholesterol 5mg
2%
Sodium 200mg
8%
Potassium 105mg
3%
Total Carbohydrate 22g
7%
Dietary Fiber 14g
56%
Sugars 2g
Erythritol 3g
Protein 21g
| | | | |
| --- | --- | --- | --- |
| Vitamin A | 0% | Vitamin C | 0% |
| Calcium | 20% | Iron | 2% |
| Phosphorous | 15% | Magnesium | 6% |
*Percent Daily Values are based on a 2,000 calorie diet

CONTAINS: Milk-Derived Ingredients and Almonds
Quest are pretty much synonymous with premium protein bars and there are a lot of good reasons why they're one of the market leaders.  Each 60g bar contains an impressive 20g of protein and only 7g of carbohydrates.
They are also gluten free.  Where Quest really scores however is in the quantity and quality of the available flavours.
There are a massive 19 of them, although in terms of popularity the choc chip cookie dough flavour seems to be well ahead of the competition.
Verdict - Great nutrition, great taste and a great price for what you get.  What's not to like?
Verdict - Best Protein Bars UK
These bars are unlikely to be enough for serious athletes, but they could be very helpful for people watching their weight and for diabetics who need to stabilize their sugar levels.
As you can see from the list above, regardless of your needs and preferences, there's a high-quality protein bar to suit you.
From protein bars intended for weight control to ones meant for athletes looking to build and repair muscle, all the benefits of protein can be enjoyed in a simple, convenient and tasty form.
Best Selling Bars Worth A Mention
Jeff is a medium-sized private gym owner that has itself over 100 members and is our equipment reviewer. If it builds muscle, gets you fit or pretends to be healthy, Jeff knows all about it. Worked with Fitness Superstore as a buyer for 10 years. Seriously BIG guy with a heart to match. Always laughing and looking for a windup. Literally always eating