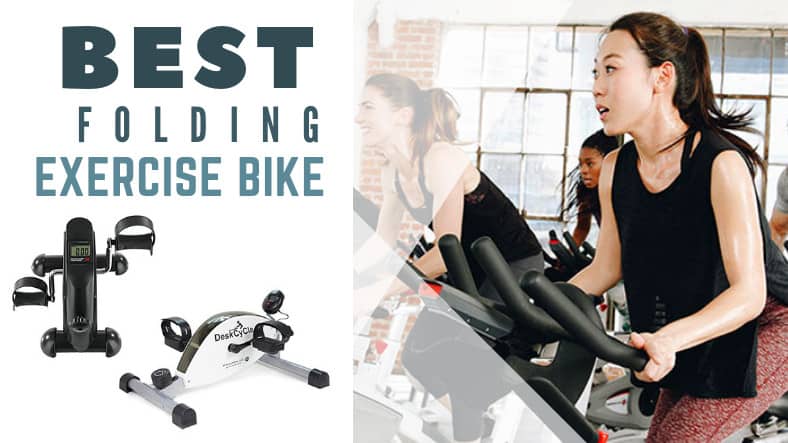 The Dutch may be world-famous for their love of cycling but the British can't be too far behind. Certainly, we leave them staring at our backsides inside the Velodrome or in the Tour-De-France.
Some people see cycling as a purely outdoor activity, but many like to cycle indoors either to build up their fitness for outdoor cycling or just as an effective all-round work-out which is particularly suited to small spaces in general and flats in particular.
The reason for this is that, unlike many other forms of "home gym" equipment, exercise bikes are more or less silent in their operation and so can be used at any time of day or night without fear of annoying the neighbours.
Sometimes, however, even folding exercise bikes, compact though they can be, are just too much for the smallest of spaces, so the good news is that there are now mini exercise bikes also known as Pedal Exercisers on the market, that are here to fill the void
Best Mini Exercise Bike and Pedal Exerciser Review
Mini exercise bikes what are they?
Mini exercise bikes are essentially the bottom half of a standard exercise bike.  This means that when you cycle you are really only working out the bottom half of your body, but many mini exercise bikes can also be used to exercise the top half of your body, just in a separate session.  Like their full-size counterparts, mini exercise bikes range from simple models for light exercise to serious machines for people who want a proper workout.
Mini exercise bikes do they work?
The short answer is yes, on their own terms.  You need to be realistic about the fact that even a top of the range mini exercise bike at maximum resistance is not going to be able to match even a basic full-size exercise bike for intensity.  So, if you have serious goals and space and money for a full-size exercise bike at home and/or the time and money to go to a gym, then you should.
On the other hand, if you just want a light, safe and zero-impact form of exercise suitable for people with limited mobility, then a mini exercise bike could be just perfect.  They are particularly good for arthritis sufferers who want to increase their circulation without triggering pain in their joints.
If you have full mobility but limited space or funds then a mini exercise bike is a whole lot better than nothing.  Similarly, if you never find the time to work out on your proper exercise bike, either at home or in the gym, then you can work out on your mini exercise bike while you're doing something else, so no excuses (and no boredom).
Last, but by no means least, a mini exercise bike can be a great solution if you want to put together a range of exercise options for a compact home gym on a budget so you can exercise in a small space without the monotony of doing the same routine over and over again.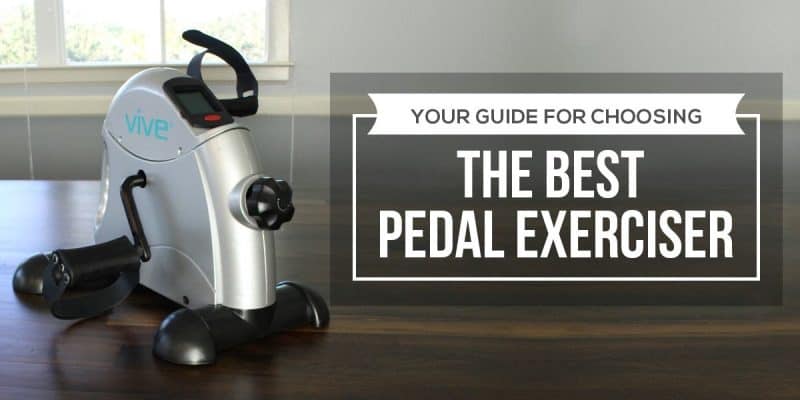 Best Mini Exercise Bike and Pedal Exercisers Available in the UK
Here's our pick of the best mini exercise bikes on the UK market.
Ultrasport Mini Bike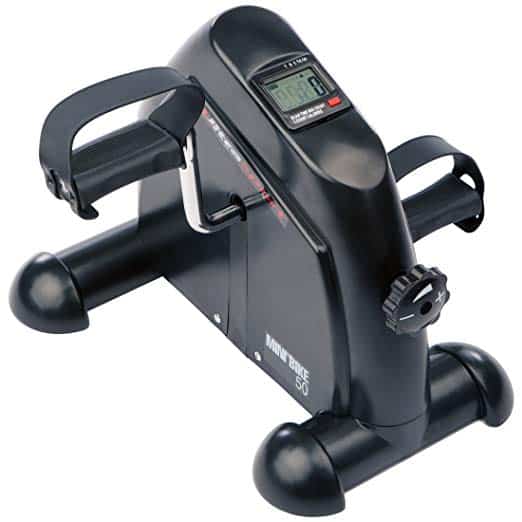 TEM SPECS & FEATURES


The Ultrasport Mini Bike looks very different to the mini exercise bikes we've recommended so far.  It's a bit bigger and doesn't fold, although it's still plenty small enough to be easy to store in most places.  At 6kg it's also quite a bit heavier than the other machines although again in general terms, it's still fairly light and the extra weight does make it particularly stable in use.  Finally it comes in two versions, with or without a handle, so make sure you're clear about which one you're buying.
As with most mini exercise bikes, a certain level of self assembly is required and some people find the Ultrasport Mini Bike a bit fiddly to put together, but if you can handle flat pack furniture, you should be fine.  We've also heard that people with larger feet may struggle to use the pedals, although we suspect that may be an issue with all mini exercise bikes due to the fact that they are "mini".  In our opinion if you're a size 8 or below you should be OK, but if your feet are bigger you should probably look elsewhere.
The Ultrasport Mini Bike is the first mini exercise bike in our selection to be targeted at the mainstream home exercise market as a serious exercise solution.  When used as a mini exercise bike, it works exactly the same muscle groups as regular bikes do and you can also use it to exercise your arms.
There is a resistance band to adjust the difficulty of the workout.  When set at the lowest level, this mini exercise bike could be used for rehabilitation work, although we'd say that at this price, the purchase could only be justified if you were coming back from an injury and intended to continue using this product once you were fit again.  Frankly there are much more affordable products will work just as well for people with long-term reduced mobility.
Essentially, if you'd like to have a proper exercise bike but are limited for space and/or money, the Ultrasport Mini Bike could be a great solution for you.
SALE
Ultrasport Mini Bike Exercise Bike, movement trainer, arm and leg trainer, pedal trainer for young and old with training computer, adjustable resistance, exercise equipment for home and office
Compact home trainer - hand and foot pedals with an adjustable pedal strap
The small exercise bike is perfect for strengthening your arm and leg muscles
On-board computer with large LCD display: Displays scan, time, distance, rotations per exercise, total rotations and calorie consumption
Max. user weight on the exercise bike: up to 100 kg, 2 kg flywheel, manual resistance settings
Delivery of pedal trainer as an assembly kit incl. complete assembly material + user manual
back to menu ↑
66fit Folding Arm and Leg Pedal Exerciser - Home Physiotherapy Fitness Mini Bike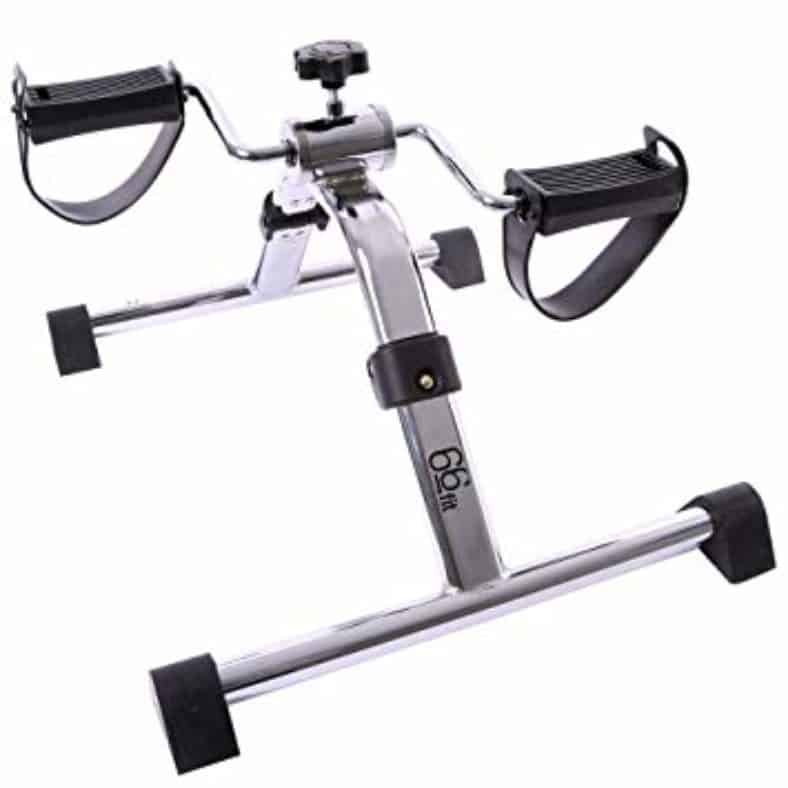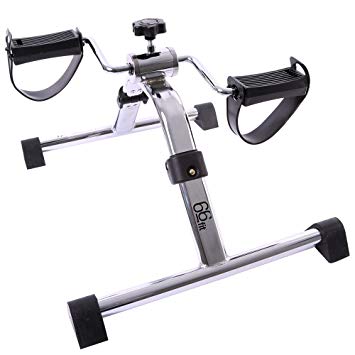 ITEM SPECS & FEATURES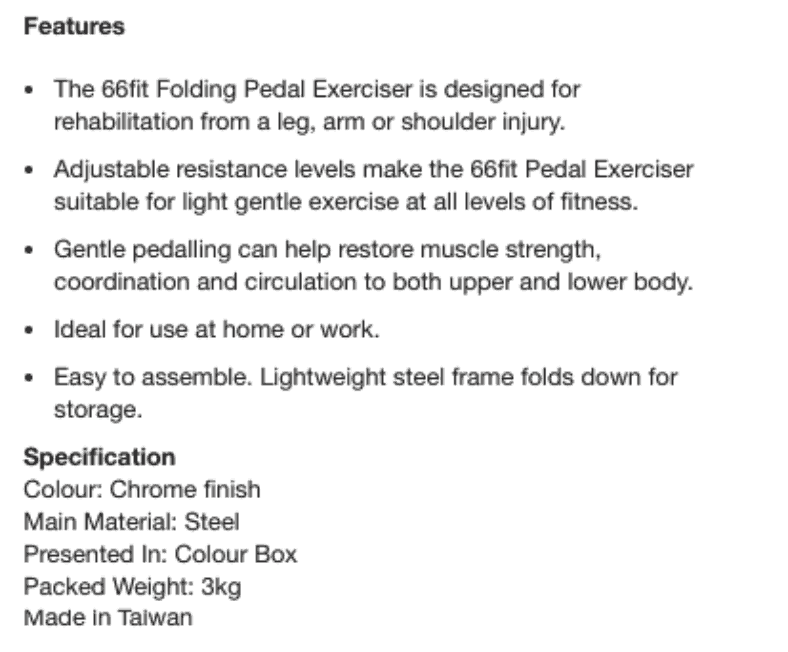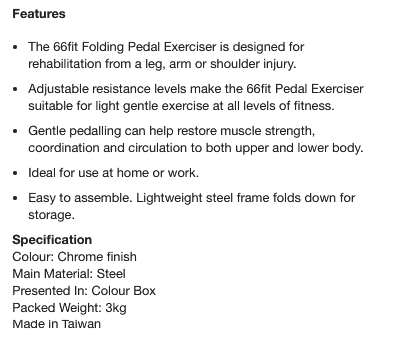 The 66fit Folding Arm and Leg Pedal Exerciser is a cheap and cheerful option and we mean that quite sincerely.  Build quality is very good, with the frame made out of lightweight steel and not only is it very easy to put this mini exercise bike together but it also folds for even more convenient storage between uses.
We're treating this as a mini bike, but it can also be used to exercise the hands and arms.  In either case, realistically, you can only expect a basic level of workout and if you have anything more than a minimal level of fitness then even turning the resistance band up to its maximum is unlikely to pose you much of a challenge.
Where this option does come into its own, however, is as an affordable and effective home-exercise solution for people with low fitness, whether that's purely through lack of exercise or due to conditions such as arthritis.  In the former case, this mini exercise bike is affordable enough to be bought for temporary use, particularly since there's a very good chance of you being able to resell it on the preloved market.  In the latter case, this mini exercise bike is quite robust enough to stand long-term use.
66fit Arm and Leg Folding Pedal Exerciser
Ideal for use around the home or in the office.
The resistance from the pedals can be adjusted to increase or decrease the effort required
Easy to assemble and folds for storage, Helps improve circulation
Non-slip rubber floor grips
Pedals come complete with toe-straps
back to menu ↑
Aidapt Pedal Exerciser with Digital Display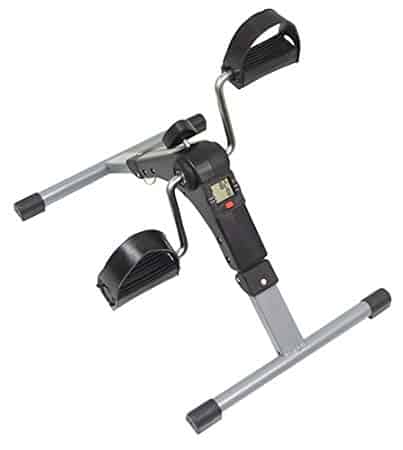 TEM SPECS & FEATURES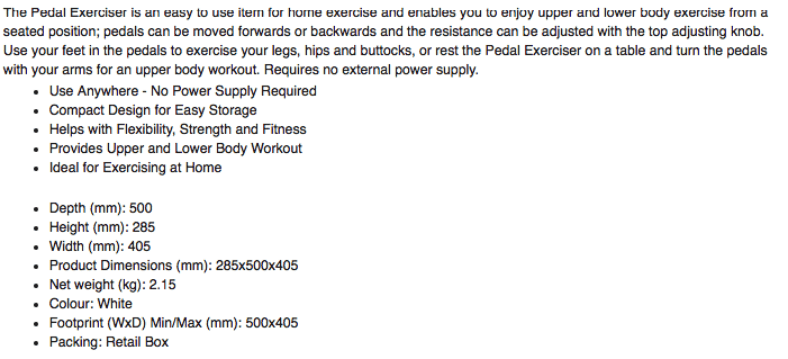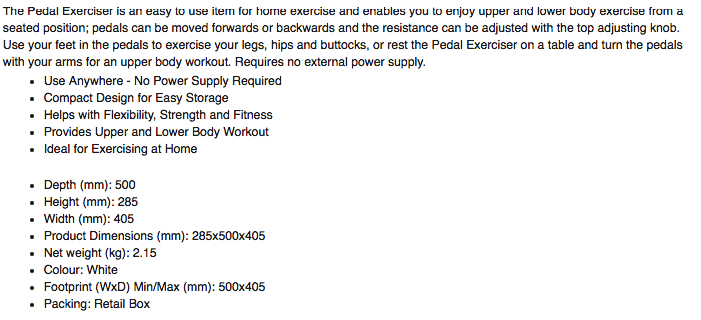 As the brand name suggests, Aidapt focuses on the medical market and as such the Aidapt Pedal Exerciser is targeted at people looking for a solution to help them ease their way back into fitness after an injury or as a form of very light exercise for people with restricted mobility, especially people with arthritis.
It also seems to have found a market among people looking for a straightforward way to boost their circulation on days when they aren't able to take exercise.  For these people, it appears to be mainly a winter product and used to combat the sluggishness people can feel during that season when the body has a tendency to slow down unless it is given a bit of a push.
The Aidapt Pedal Exerciser is very much at the budget end of the market and although it is generally robust, the pedal shaft can get very hot very quickly if you push this mini exercise bike to the upper end of its limits.  This is obviously a known issue since the documentation contains a warning about it.  The moral of the story here is: "forget about using the resistance band" and to be fair we doubt it would be of much interest to the intended user base anyway.
There are another couple of issues which can pop up when using this product.  One is that it isn't necessarily the best at staying put on all surfaces and so an anti-slip mat can be a good investment.  The other is that it can be a bit noisy, by which we mean squeaky, but a touch of oil usually does the trick.
Overall, the Aidapt Pedal Exerciser is light, compact, foldable and affordable.  It isn't for everyone but it isn't intended to be.  If, however, you fit the target market, this mini exercise bike could be a very good choice.
Aidapt Pedal Exerciser with Digital Display
Ideal for rehabilitation and fitness in the home
Stylish folding compact design for easy storage
Useful inbuilt digital display screen to monitor progress
Minimal assembly required
Maximum user weight 114 KG
back to menu ↑
DeskCycle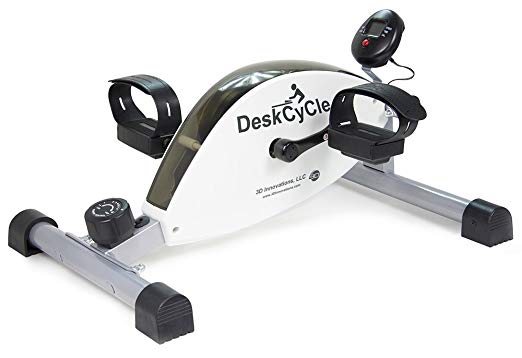 TEM SPECS & FEATURES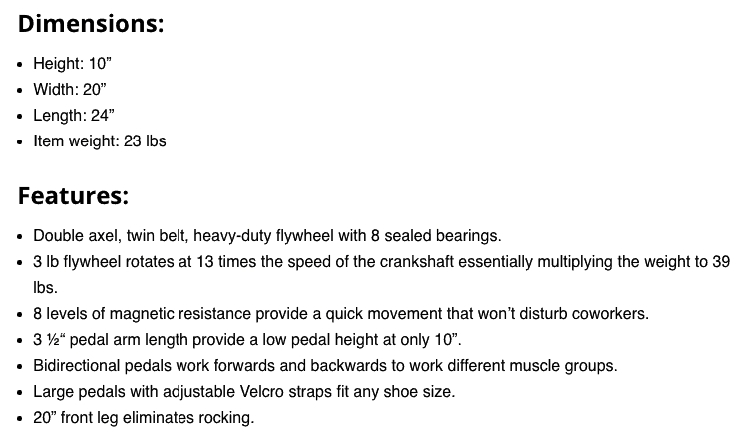 The DeskCycle is one of those products which is such an obvious solution to such a common problem that you wonder why nobody had thought of it before and wish you'd thought of it yourself.  It's far from the cheapest mini exercise bike on the market, however in our opinion it's a great investment piece if you're part of the user group at which it's aimed.
Let us explain.  DeskCycle is a mini exercise bike which, as its name suggests, is intended to be used under a desk.  For this reason, it's very low profile, meaning that you can use it without your knees banging against the base of your desk.  It's also super-quiet in operation, even by the standards of mini exercise bikes, which means that even if you're in an open-plan office, you can use it without disturbing your neighbours.
The magnetic resistance band gives a good level of variation and at the upper levels you can get a pretty decent work-out, although you may want to think carefully about whether or not that's appropriate for an office environment.  We give the DeskCycle bonus points for having a detachable display, which you can put on your desk to track your progress (keeping your smartphone free for other purposes).
There are a few points to remember before deciding whether a DeskCycle is right for you.  The first is that the design of the DeskCycle means it doesn't fold and nor does it have a handle as such so it's less compact to store than other options, but we don't see that as an issue.  The other is that it may slip on certain floorings so again, an anti-slip mat could be a good accessory purchase.  Finally, although this isn't an issue with the DeskCycle itself, if you have one of those moveable chairs popular in many offices, remember to lock the castors before use.
Speaking of chair, while this is a slight digression, we think it's worth mentioning.  If you're thinking of getting exercise by switching out your standard office chair for an exercise ball, we'd suggest you think again.  It may be (a lot) cheaper than a DeskCycle but you cannot engage your core muscles all day at work, particularly not if you also need to concentrate at work.  This means that if your only seating option is your exercise ball, you are very likely to find yourself adopting a bad posture and reaping the consequences.
Overall we'd say that even though the DeskCycle is a premium option, it's a fraction of the price of gym membership and can be used whenever you want.  If nothing else, it can keep your circulation going during the work day, when you're probably going to find yourself seated for extended periods, even if you know full well you're supposed to take breaks.  In other words, it's very much a niche product, but if you're in that niche, the DeskCycle could be one of the best purchases you ever make.
DeskCycle2 New, Height Adjustable, Premium Quality Magnetic Resistance. Low Profile, Whisper Quiet, Mini Exercise Bike, Turn any Chair into an Invigorating Fitness Station.
Same high Quality Product with patented magnetic resistance and premium components as the popular standard DeskCycle, with the addition of Adjustable...
Whisper Quiet Magnetic resistance provides smooth pedal motion that is healthy for your joints; let's you focus on your work letting everyone else...
No expensive gym membership required. Save time and money exercising in the office. Lowest pedal height of any commercial exercise bike;
More than twice the resistance range of the other pedal exercisers; 8 calibrated resistance settings; from very easy to more than you need.
5 function display includes speed, time, distance and calories; Plus online calorie calculator. FREE Desk Display Extension Kit is included with this...
back to menu ↑
VITALmaxx 04936 Arm and Leg Trainer | Mini Exercise Bike | Minibike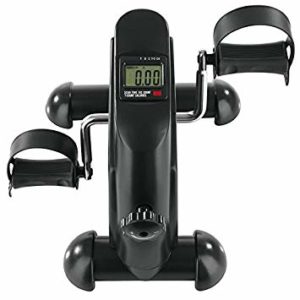 TEM SPECS & FEATURES

Even though looks shouldn't matter, we have to say, we think the VITALmaxx 04936 is the most stylish mini exercise bike out of the ones we've picked, so although it's still compact enough to be stored fairly easily, if you are looking for a mini exercise bike you can leave out in plain sight, then we'd put this one at the top of the list.
The VITALmaxx 04936 is described as "a small trainer with plenty of recreational value".  In real terms we're guessing this means: "it's more capable than a mini exercise bike which is intended purely for recreation but you can't expect it to be as capable as a full-size exercise bike", at least that's how we see this mini exercise bike.  It's strong enough and with enough resistance to give you a decent workout, just don't expect it to help you turn into the next Olympic cycling champion.
Overall, we think the VITALmaxx 04936 could be used as your main piece of exercise equipment, especially since it can be used to work-out the arms as well as the legs.  In general, however, we'd see this as a good component of a mini home gym, emphasis on word mini, but small can be both beautiful and effective as well as affordable, certainly compared to gym membership.
Bonus pick
Aidapt Deluxe Motorised Pedal Exerciser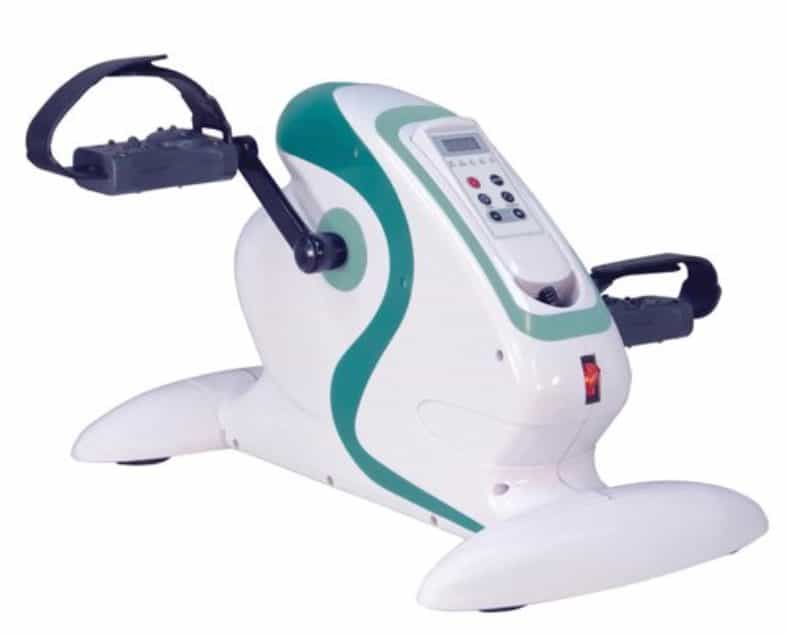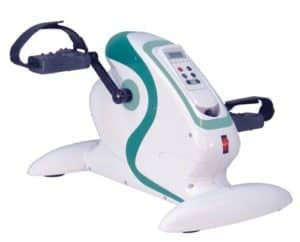 The mini exercise bikes we've mentioned so far have all been manual bikes.  We've deliberately stayed away from motorized mini exercise bikes as these are generally used purely for rehabilitation and tend to be bought after consultation with a doctor or physio.  The reason for this is that you need to ensure that the motorized mini exercise bike you buy has the right options for your specific condition(s).  If, however, you do want to buy one on your own, our recommendation would be the Aidapt Deluxe Motorised Pedal Exerciser.
SALE
Overall
We've tried to cover a range of options for different situations, while sticking with brands we trust and models we'd be happy to use ourselves.  The 66fit Folding Arm and Leg Pedal Exerciser and the Aidapt Pedal Exerciser are both very much rehabilitation-orientated mini exercise bikes.  The DeskCycle is a genius niche product, while the Ultrasport Mini Bike and the VITALmaxx 04936 are both serious mini exercise bikes.  We'd be inclined to choose the former if you only had space or funds for one piece of equipment and the latter as part of a small home gym.