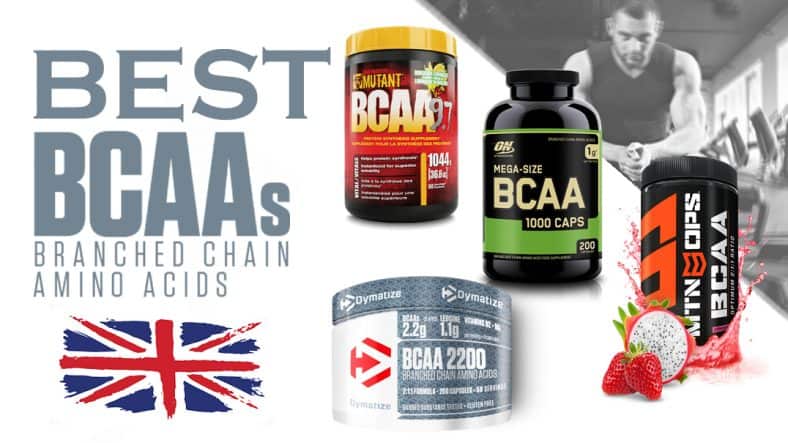 Up until relatively recently, BCAAs (or branched-chain amino acids) we're simply a constituent of protein supplements and whey powder.
Now, however, they're recognized as valuable supplements in their own right as they increase the rate of protein synthesis, thus helping to promote muscle gain (bulk) and, just as importantly, maintain those gains as you lose weight again (cut), which is why we pressed on with this Ultimate, your very own, Best BCAA UK Top 10 List
The three, key BCAAs are Leucine, Isoleucine and Valine, which have traditionally been consumed in a 2:1:1 ratio, although some brands are moving away from this and developing other ratios.
Depending on your preference, you can have your BCAA drink during your workout or afterwards, perhaps in combination with a protein shake.
Serious comment, if you have your BCAA shake and your protein shake after your work out, mix and drink them separately.  We've yet to discover any BCAA product which could be mixed and drunk together with any protein product.
You're welcome to try to prove us wrong, but don't say we didn't warn you!
So here is our round-up of the top 7 best BCAAs currently available on the market, plus a bonus pick for vegans or anyone else who wants to avoid dairy protein.
We've specifically looked for BCAAs which were available on Amazon, so we could be sure you could get your hands on them regardless of where you live, plus if you spend over £20 or have Amazon Prime, delivery is free.
Top Ten BCAAs UK List
BSN Amino X Review
Nutritional Breakdown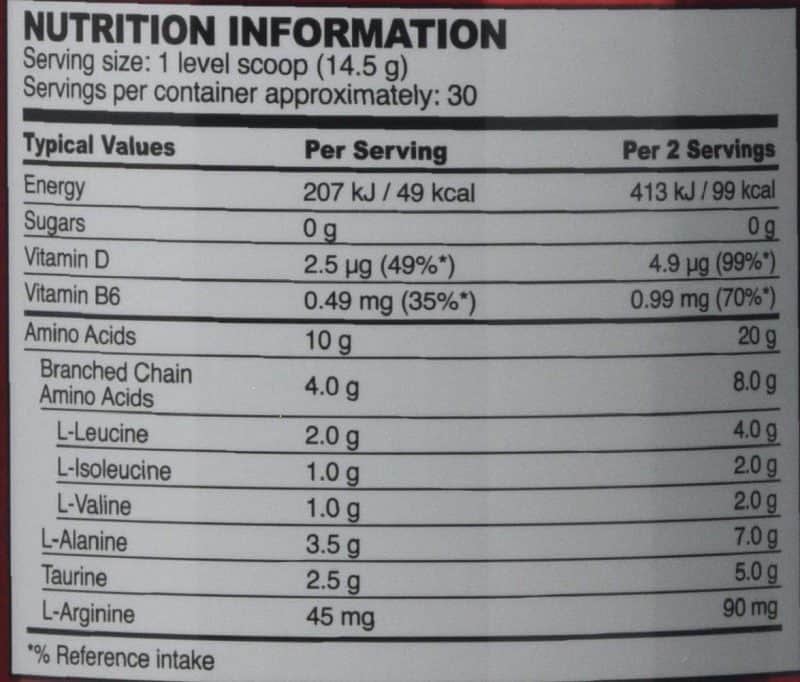 The main reason BSN products tend to appear in "best of" lists so regularly is because they offer great value for money and this is certainly true of BSN Amino X.  When it comes to your choice of BCAAs there's an extra, possible reason to buy it which is that it's caffeine-free.
In theory, it's available in 7 flavours although in reality you're probably going to find four, maybe five, at most stockists, basically reflecting what most people like.  Regardless of what flavour you choose, you'll get 10g of blended BCAAs along with the essential amino acids, L-Alanine, Taurine and L-Citrulline.
There are a couple of minor points to consider when looking at this product.  The first is that the scoop is quite wide in comparison with the neck of the tub, so it can be a bit of a pain to get the product out.  If that's an issue for you, then you can just decant it into another airtight container.
The other is that for some reason this product does seem to shake up very easily to the point where it can actually take the lids of shakers (or so we've heard), so we'd suggest giving it a bit of a stir or gentle shake, before you go full-blast.
back to menu ↑
MusclePharm BCAA 3:1:2 Capsules Review
Nutritional Breakdown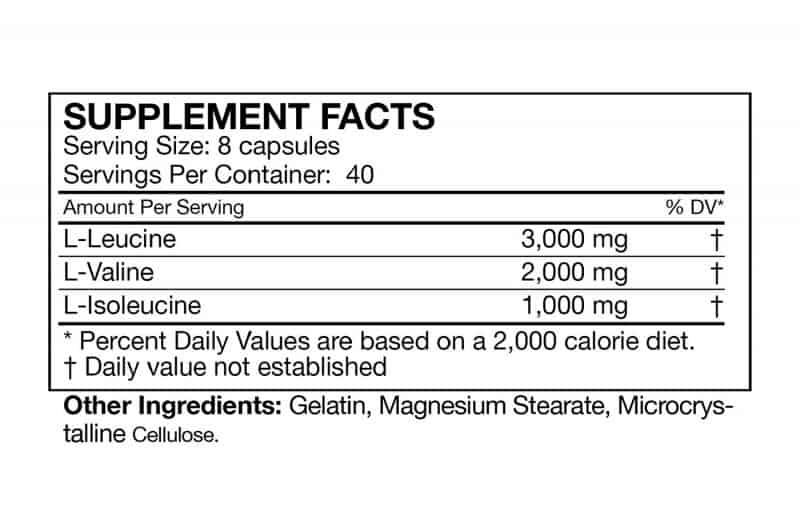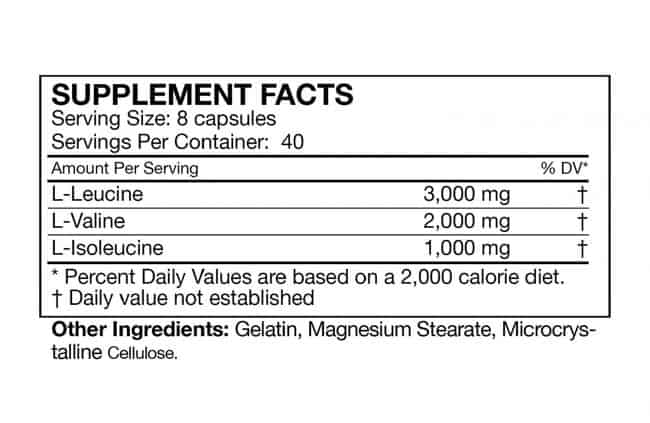 Vegetarians move along, these capsules are made with gelatine.  You may wish to look at the MusclePharm BCAA 3:1:2 powder although we have to say we don't like it as much.
MusclePharm are, currently, the only company producing BCAAs in the 3:1:2 ratio and according to their literature, they have a patent pending on it.  We're not lawyers, but we'd assume that this patent related to the way in which they produce the formula rather than the ratio itself, since we're not at all sure how you would be able to patent that.
In any case, each serving of MusclePharm BCAA 3:1:2 delivers 3 grams of L-Leucine, 2 grams of L-Valine and 1 gram of L-Isoleucine.  The company believes that this delivers optimum performance (although we're more inclined to think that there's no ideal product for everyone, which is one reason why we try to provide a range of choices).
A serving is 8 capsules, which, effectively have no flavour.  This may be a reason for choosing them, if you can't find a powder you like (or can manage to hold your nose and swallow).
MusclePharm BCAA 3:1:2 Capsules Pack of 240
Rapidly absorbed branched chain amino acid complex
Delivers bccas in the patented ratio of 3:1:2
Support lean mass growth
Help to promote muscle development and maintenance
This may help provide support against muscle breakdown and lead to gains in body mass without losing weight
back to menu ↑
Optimum Nutrition (Essential) Amino Energy Review
Nutritional Breakdown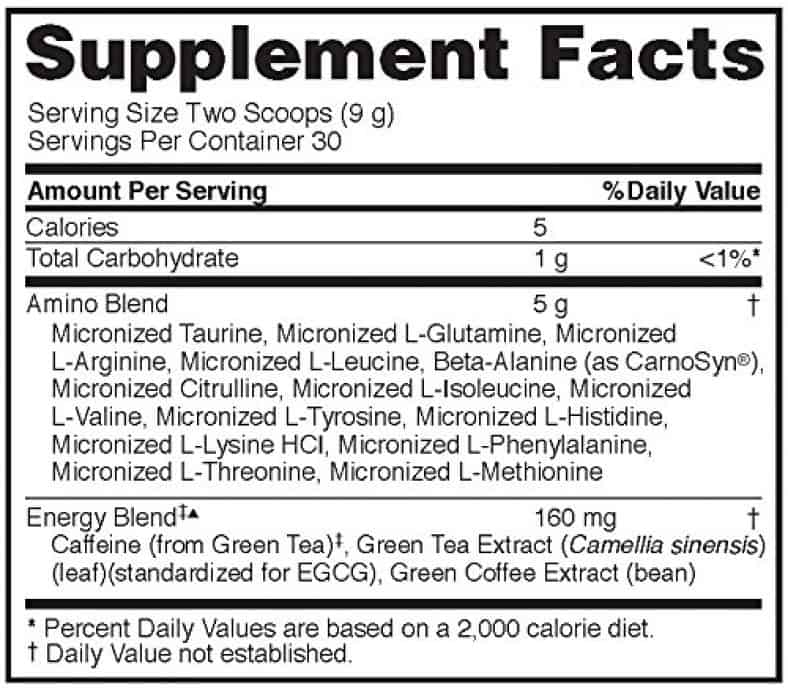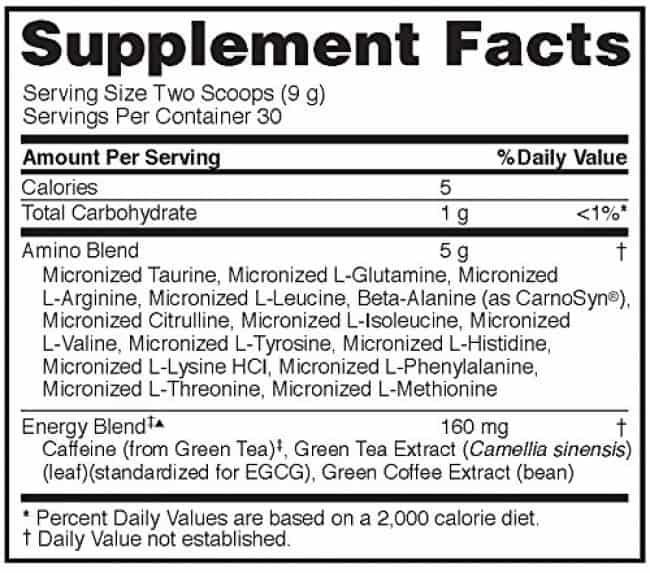 This product is sometimes listed with the "essential" bit in the name and sometimes without.  In either case, it's theoretically available in an impressive 12 flavours although we wouldn't count on finding them all in stock.  We'd also say that although it's literally a matter of taste which one you prefer, some flavours do seem to mix more easily than others.
If you have an issue with mixing your drink, using warm water may help.  Warm, in this case means warm, not hot not cold.  You can always heat it up or cool it down once it's mixed.
Whatever flavour you buy and however you mix it, you end up with 100mg of caffeine to go along with your 5 g of micronised amino acids, which include 3g of BCAAs as follows: L-Leucine 1g,  L-Isoleucine 0.5g, L-Valine 0.5g, L-Glutamine 1g.  This is presumably why Optimum Nutrition (Essential) Amino Energy is often so highly commended for its beneficial influence on mental focus.
The only downside to this product is the same as with all Optimum Nutrition products, namely they are premium-grade products and priced accordingly, but if you're seriously committed to training, then this could reasonably be counted as an investment purchase.
Optimum Nutrition Amino Energy Pre Workout Powder Keto Friendly with Beta Alanine, Caffeine, Amino Acids and Vitamin C, Strawberry Lime, 30 Servings, 270 g
A caffeine-infused "anytime energy" ready-to-mix powder alternative to carbonated beverages, energy drinks, flavoured waters, and teas
Essential amino acids, natural caffeine and vitamin C help boost your energy and keep your focus and drive on point
Low calories and sugar
Perfect as an entry point for those looking to get into a healthier lifestyle, while equally at home with experienced active core users, as well as...
Flavours ranging from fruit-inspired options to cola and tea-infused ones means you don't have to sacrifice great flavour to get the boost you crave
back to menu ↑
Phd Nutrition BCAA Intra+ Review
Nutritional Breakdown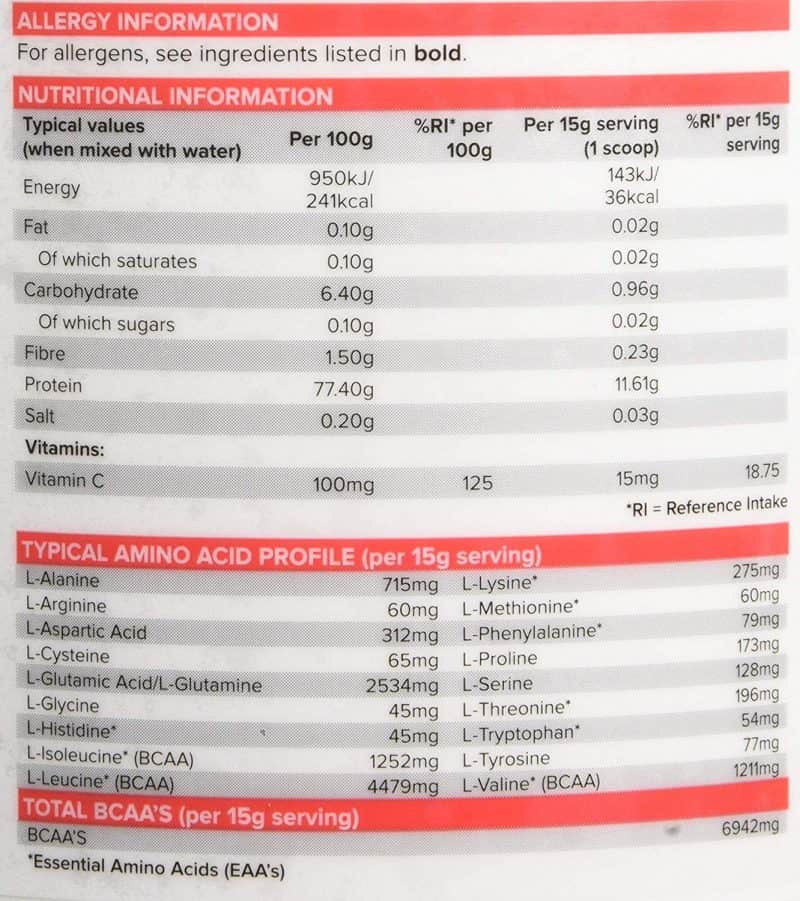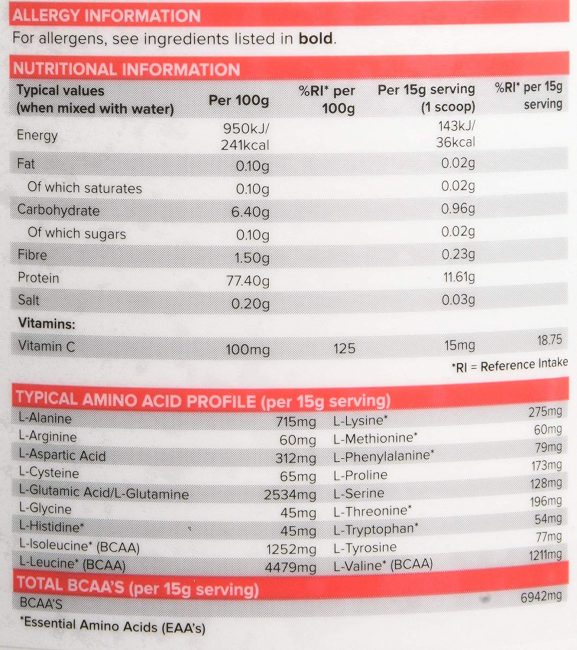 PhD Nutrition is another premium brand and it's made its name on innovation.  The innovation in this case being the addition of coconut-water powder to its three flavours, which are coconut and lime, coconut and mango and watermelon.
We haven't tried the watermelon flavour but we can tell you that, in general, coconut water is pretty mild and so we doubt you'd notice the taste unless it was really ladled on.  In fact even the coconut and lime is pretty mild although from what we've heard, most people find it perfectly pleasant.
In all honesty, we're not sure what extra benefit the coconut-water powder brings.  We're not really buying into it as a source of MCTs and, to be fair, PhD Nutrition isn't advertising it as such.  As far as BCAAs are concerned, however, the fundamentals are solid: L-Leucine 2540mg,  L-Isoleucine 635mg, L-Valine 635mg, L-Glutamine 1340mg and L-Alanine 375mg.
There is also vitamin C for additional benefits, including a boost to your immune system.
Overall, we like the Phd Nutrition BCAA Intra+ a lot, if only because it has mild flavours and powerful benefits.
back to menu ↑
USN BCAA+ Power Punch Review
Nutritional Breakdown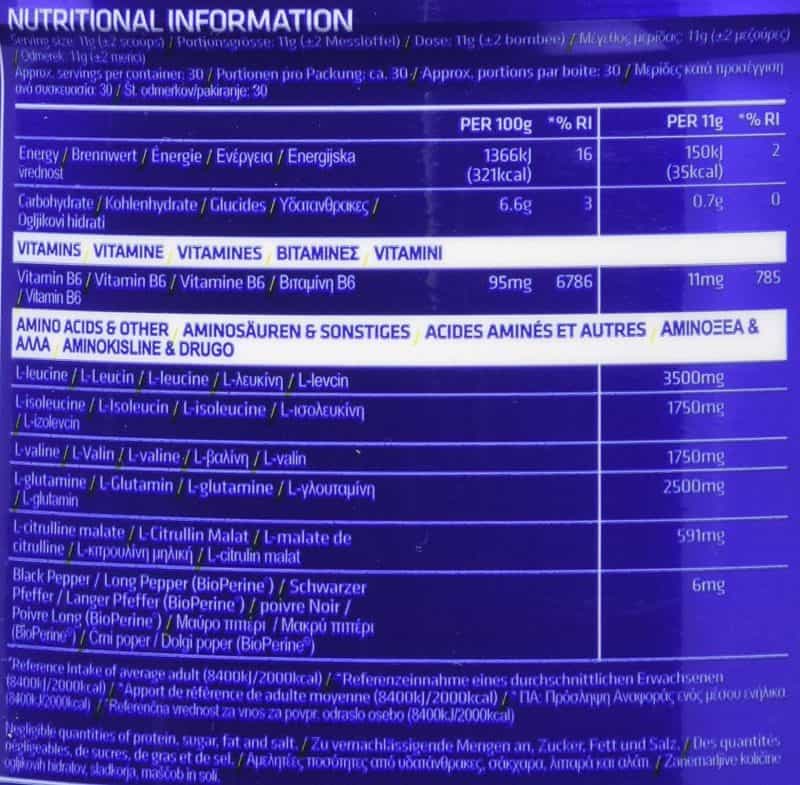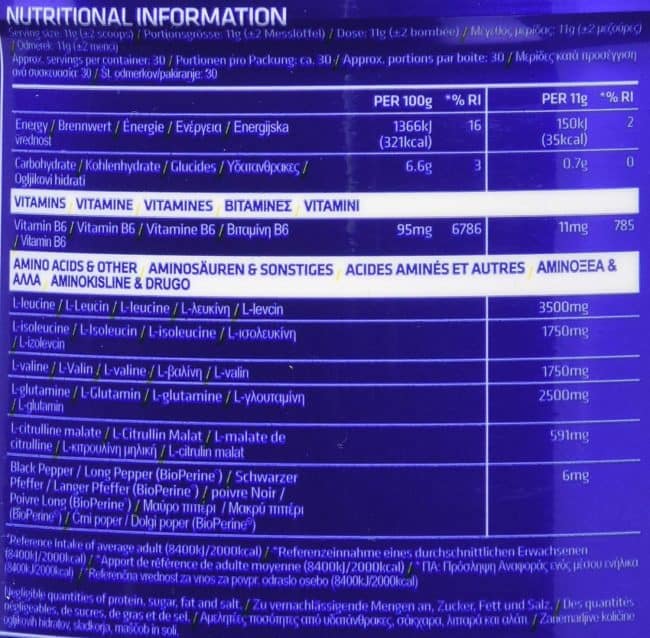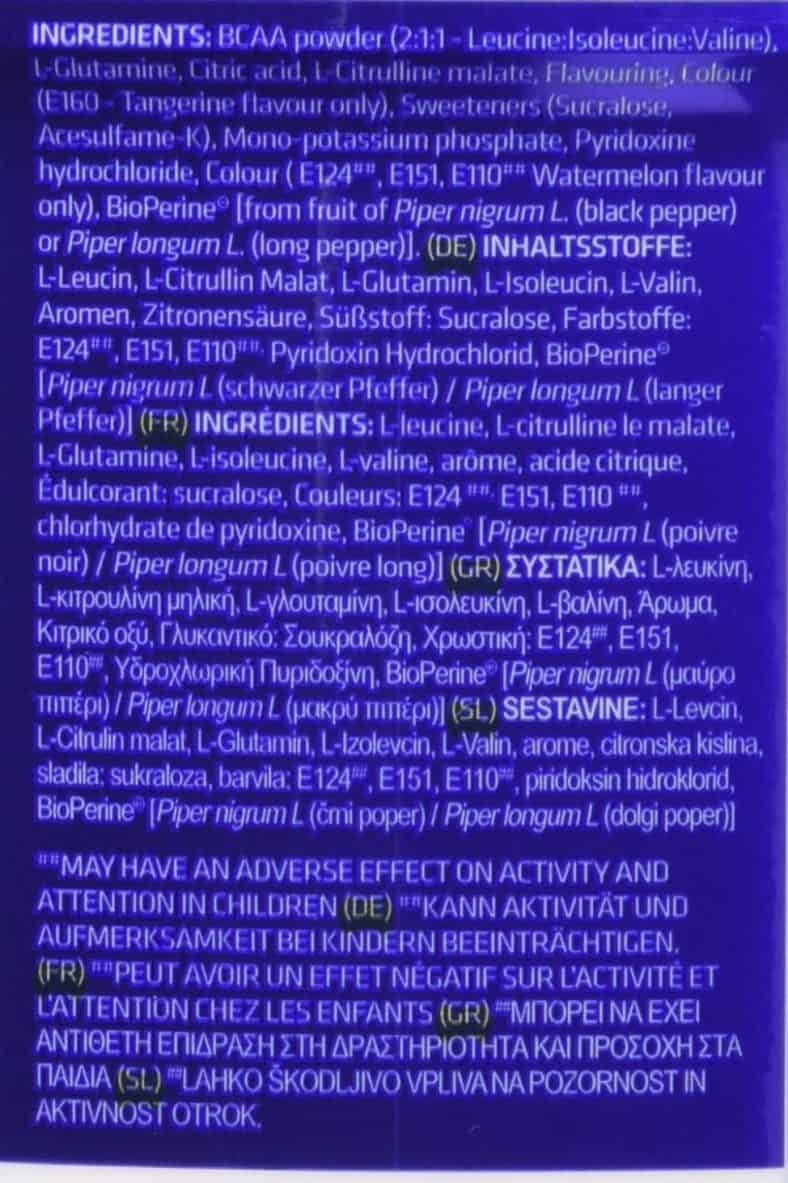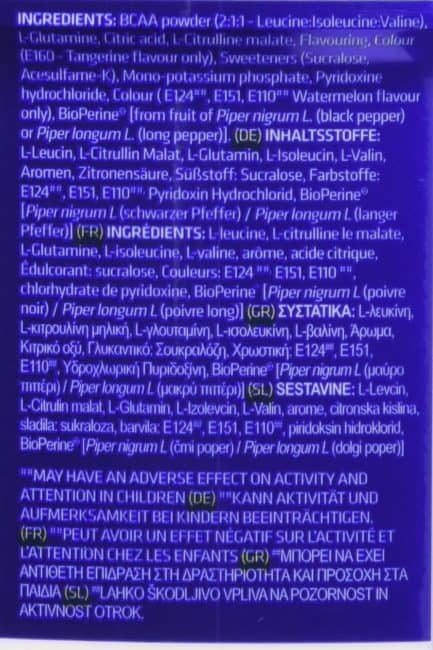 Last but my no means least, out of our main picks, we have USN BCAA+ Power Punch.  It's available in four "delicious" flavours.  We've yet to find a BCAA product which we'd class as "delicious", so let's say "pretty decent" for both flavour and mixability.  One serving will get you a substantial 7g of BCAAs in a 2:1:1: ratio (L-Leucine: L-Isoleucine:L-Valine) along with Glutamine and vitamin B6.  USN BCAA+ Power Punch is a caffeine-free product.  Overall, we'd say this was a solid product offering excellent value for money.
SALE
USN BCAA Power Punch Amino Acid Plus Blend, Cloudy Lemonade, 400 g
USN - BCAA power punch, 400 g contents are sufficient for 36 portions of 11 g each
The BCAA + mixture contains 7500 mg BCAAs in a ratio of 2: 1: 1 as well as 2500 mg glutamine and 591 mg l-citrulline
The body needs the BCAAs for protein synthesis, supports the performance level to get the best out of the body during every workout
Added vitamin B6 contributes to normal energy, protein and glycogen metabolism and vitamin B6 also supports the immune system and reduces fatigue
One serving of 11 g powder has 35 calories and contains 0.4 g carbohydrates and 0 g fat
back to menu ↑
The Protein Works BCAA Extreme Review
Nutritional Breakdown
NUTRITIONAL INFO
| | | |
| --- | --- | --- |
| Values based on: | per 100g | per serving |
| Energy (kJ) | 21 | 1 |
| Energy (kcal) | 5 | 0 |
| Fat (g) | 0.0 | 0.0 |
| of which Saturates (g) | 0.0 | 0.0 |
| Carbohydrates (g) | 0.0 | 0.0 |
| of which Sugars (g) | 0.0 | 0.0 |
| Fibre (g) | 0.0 | 0.0 |
| Protein (g) | 0.0 | 0.0 |
| Salt (g) | 0.0 | 0.0 |
| Calcium (mg) | 3640 | 218 |
INGREDIENTS (UNFLAVOURED)
Allergens - See below ingredients in ORANGE
BCAA 4:1:2 (L-Leucine, L-Valine, L-Isoleucine, Emulsifier: Sunflower Lecithin)
Tri-Calcium Phosphate
Magnesium Oxide
Vitamin C (Ascorbic Acid)
Pepform® Leucine Peptides (Milk)
The Protein Works is another brand with an innovative ratio, in this case 4:1:2 (L-Leucine: L-Valine: L-Isoleucine), along with magnesium, calcium and vitamin C.  Much to our annoyance, we're unable to find detailed values for exactly how much you get of any of these but to be fair, The Protein Works is a well-respected name so we're prepared to believe you get a decent quantity as well as an effective ratio.
In theory, The Protein Works BCAA Extreme is available in four flavours (or three flavours and unflavoured, whichever way you want to look at it).  In practice, you're probably only going to find a couple widely available.  Overall, this is another premium product at a premium price, but if you have the budget, The Protein Works' products are generally worth the money.
back to menu ↑
CNP Professional Pro BCAA Burst Apple flavour Review
Nutritional Breakdown
Nutritional Information
100g
12.5g Serving
Energy
1654kJ / 390kcal
207kJ /49kcal
Fat

of which saturates

1.0g

0.7g

0.1g

0.1g

Carbohydrates of which sugars
4.5g 0.6g
0.6g 0.1g
Fibre
0.2g
0g
Protein
90g
11g
Salt
0.9g
0.1g
Leucine*
32.0g
4.0g
Isoleucine*
4.0g
0.5g
Valine*
4.0g
0.5g
Taurine
35.0g
4.4g
Beta Alanine
8.0g
1.0g
Citrulline Malate
1.6g
0.2g
* Branched Chain Amino Acids
Ingredients: Branch chain amino acid blend (leucine, isoleucine, valine) (Soya lecithin), Taurine,  Leucine, Isoleucine and Valine Peptides (Milk), Beta Alanine, Flavouring, L- Citrulline DL-Malate, Sodium Chloride, Malic Acid, Sweeteners (sucralose, acesulfame K).
We're going to have to say up front, that CNP Professional Pro BCAA Burst is only available in two flavours, namely apple and pineapple.  If you're OK with that, then this product is another great value choice.  It will give you 11g of protein to go along with 4g Leucine, 1g Beta Alanine and 0.5g each of Isoleucine and Valine.
CNP Professional Pro BCAA Burst is priced so that even those on lower budgets can afford to use it on non-training days to keep up the good work.
SALE
CNP Pro BCAA Burst - Apple, 750g
CNP PRO BCAA BURST is a great tasting branched chain amino acid drink that mixes easily and can be used pre, during or post workout
SUPPORT YOUR TRAINING GOALS - Pro BCAA can be used pre, during or post workout
ADVANCED BLEND of the BCAAs leucine, isoleucine and valine, together with taurine, beta alanine and citrulline malate
BCAAs increase the rate of protein synthesis in the body, whilst at the same time reduce the rate of protein breakdown
SUGAR FREE - easy mixing, fast absorbing amino acid drink
back to menu ↑
Bonus pick Vegavero BCAA Powder Review
Nutritional Breakdown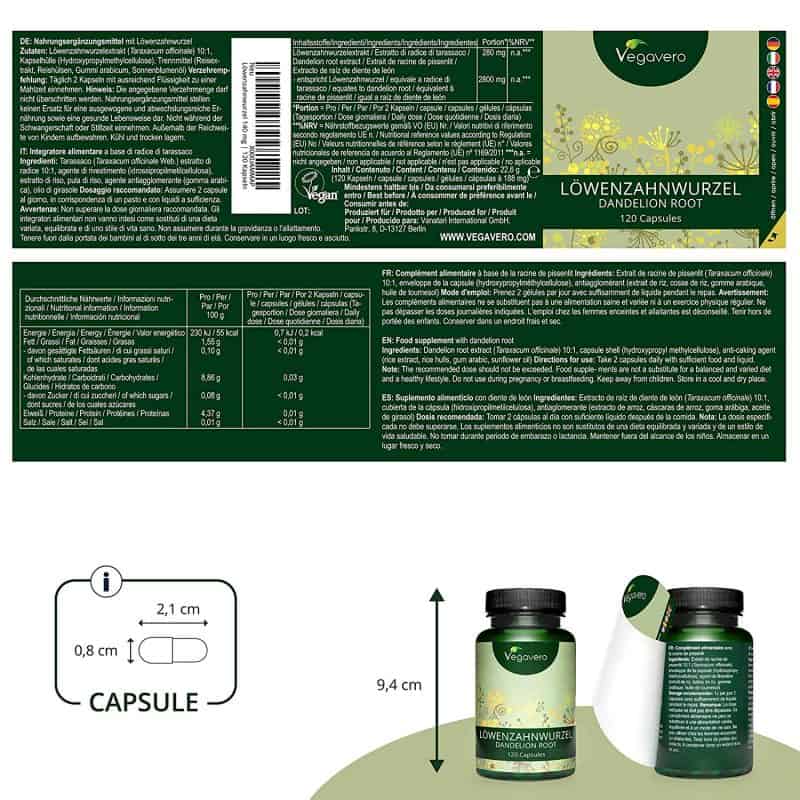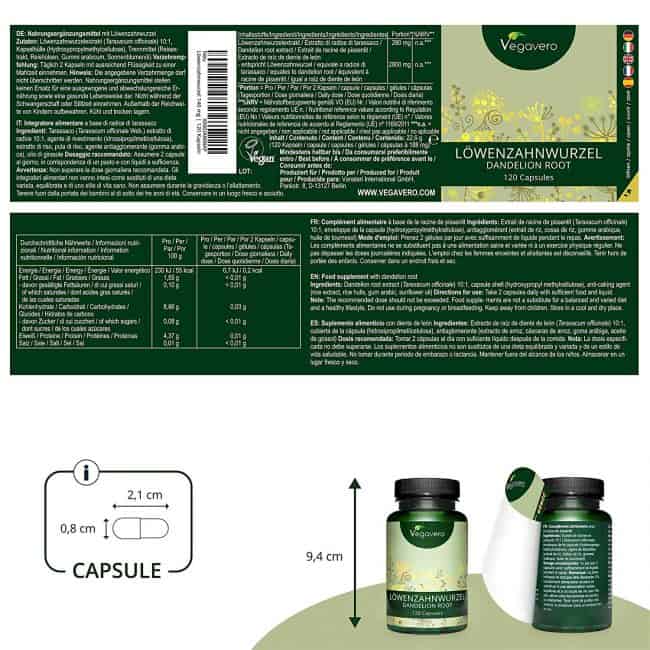 At this point in time, Vegavero is a bit of an unknown quantity to us, however, if you're looking for an ethical and/or vegan supplement, which is not only guaranteed free of additives such as Maltodextrin, Magnesium Stearate, Silicon Dioxide and Microcrystalline Cellulose but also made with love for the planet, then this one seems pretty decent.
In terms of the actual BCAAs, one serving gets you 500 mg of Leucine, 245 mg of Isoleucine and 245 mg of Valine.
SALE
VEGAVERO Vegan BCAA - Highest Dose 5000 mg Leucine, Isoleucine, Valine with B Vitamins, Chromium and Zinc | 2:1:1 | Sports Supplement | BCAAs Tablets - 270 Tablets | 100% Vegan
📍 ABOUT OUR PRODUCT: Our BCAA Complex includes a ratio of 2:1:1 of Leucine, Isoleucine and Valine, along with B Vitamins, Chromium and Zinc...
THE VEGAVERO DIFFERENCE: We make our BCAA with a little more love in Germany by choosing high quality ingredients and following strict German...
🔥 IDEAL COMBINATION: In addition to BCAAs, our product also contains chromium, zinc and B vitamins, which support the function of the amino...
🌿 VEGAVERO - From Nature, with Passion, For You: We respect and love nature. That's why all our supplements are vegan and free of any...
💓 BY YOUR SIDE: Caring for you is part of our philosophy. So, in addition to providing supplements designed for your needs, we work on unique...
Best BCAA UK - Overall
In our opinion, any one of these brands would probably be fine for people who just liked to keep fit without being too serious about it.  For these people, your decision is likely to be based on taste and/or price and if you have the budget it might be worth trying some of the premium brands just to see how you felt about the flavours as compared to the more affordable ones.
Those who are serious about training, for example, those who want to compete in bodybuilding, would probably do best with one of the more premium brands, but if these are out of your budget then a product from a good, entry-level brand would be a lot better than nothing.