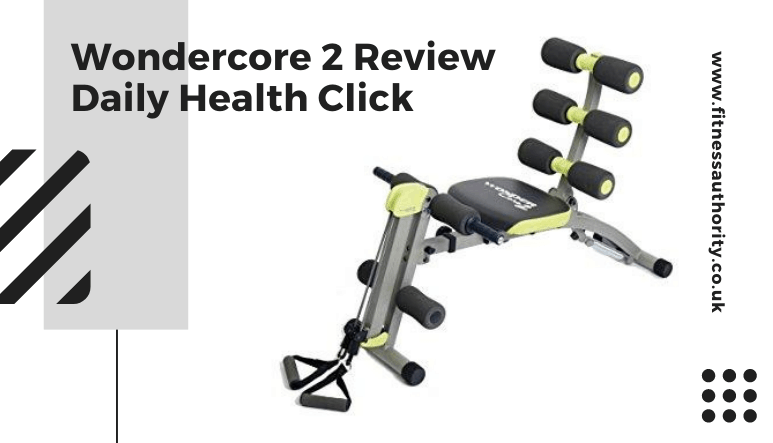 Quick Jump To List
The original WonderCore Smart System quickly established a fan following amongst the home fitness market due to its winning combination of a compact size, an affordable price and a high degree of effectiveness.
As is often the case with sequels, the arrival of the WonderCore 2 was met with a mixture of excitement and trepidation, let's be honest, as Hollywood demonstrates so well, sequel vary widely in quality and more than a few are just efforts to milk an established brand even further without necessarily adding any value to it.
It's therefore encouraging to see that even though the WonderCore 2 has the same basic aim as the original WonderCore Smart System, it is very much its own machine.  We, therefore, take a look at it in its own right, to see what it can offer for its £100 price tag in our full Wondercore 2 Review.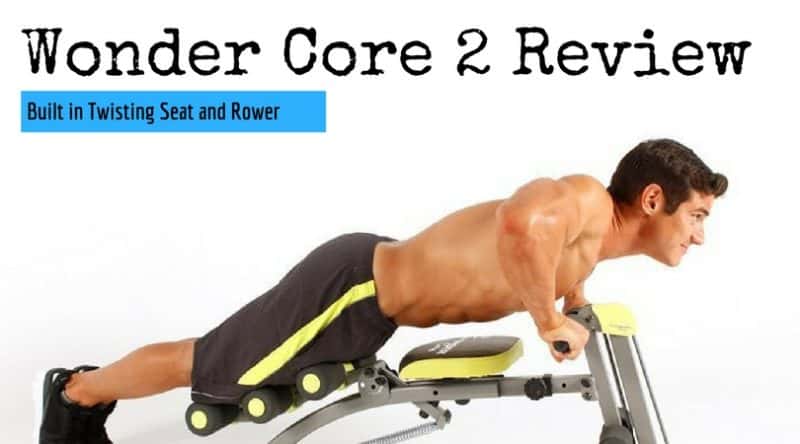 First impressions of the WonderCore 2
The most obvious difference between the WonderCore Smart System and the WonderCore 2 is the size.  The WonderCore 2 is substantially bigger than its predecessor, coming in at H25, W85, D33cm and almost 11Kg in weight.
Although it does fold away easily, we personally think it's probably rather too big to be stowed under the average bed between uses, but it's still of a size where it would be reasonable to keep it tucked away somewhere in all but the very smallest of rooms (if you are in a tiny room, then the WonderCore Smart System is more likely to be for you).
Likewise, the WonderCore 2 comes in closer to the 11KG mark, so again, it is probably feasible to collect it and carry it home, but if you do get the option of free or low-cost delivery, we'd certainly consider it.
As well as being noticeably bigger than the WonderCore Smart System, the WonderCore 2 is a completely different shape.  Instead of being designed for use with the user seated or lying on the floor, the WonderCore 2 is designed to have the user sit or lie on top of it.
As such, it looks to us rather like a metal futon, only it has a seat which can twist as required.  It has the versatility of a futon too, in that it changes shape to accommodate different exercises.
The other big difference, when compared with the WonderCore Smart System, is that the WonderCore 2 does need a bit of self-assembly.  Never fear, however, all you're really doing is connecting the frame and the pulleys and all you need for the job is a small screwdriver, which has been thoughtfully included.
Instructions are very clear and you should be finished the job in well under an hour with your sanity completely intact.
Like its predecessor, the build quality is very reassuring, with a conspicuous absence of creaks, squeaks and other signs of poor materials and/or poor workmanship.
When we actually used it, we had confidence it could hold our weight and it was decently comfortable to sit and lie on given that it's a piece of workout equipment rather than a reclining armchair.
User range
The WonderCore 2 is designed for users up to 120kg (18st 13lb).  We'd also say that if you're very tall (over 5' 9") and/or particularly big built then you may have to look elsewhere.  If at all possible, try before you buy or look for the option of a free return.
WonderCore 2 review
Looking at various adverts for the WonderCore 2, we've seen terms like "home multi-gym" and "revolutionary ab-sculpting system".
What this means in reality is that the WonderCore 2 is a new take on the abs chair.  It offers a maximum resistance of 9Kg via dual-resistance springs (meaning that you get a workout throughout your full exercise, rather than just in one direction) and double-pulley system, along with a decent range of exercises, namely:
Bench press
Butterfly press
Leg extension
Arm curl
Low rowing
Triceps press
Leg press
Shoulder press
Chest press
Back leg curl
In addition to the machine you get a guide to how to adjust certain of the components, namely the springs (for resistance), the lock pin and the rowing set type.
This guide is really short and simple, which is a pretty good indication of how easy it is to adjust the WonderCore 2 to your particular taste.
You also get a pictorial guide to a selection of key exercises along with a workout DVD, containing 3 complete workouts, where they are demonstrated in more detail.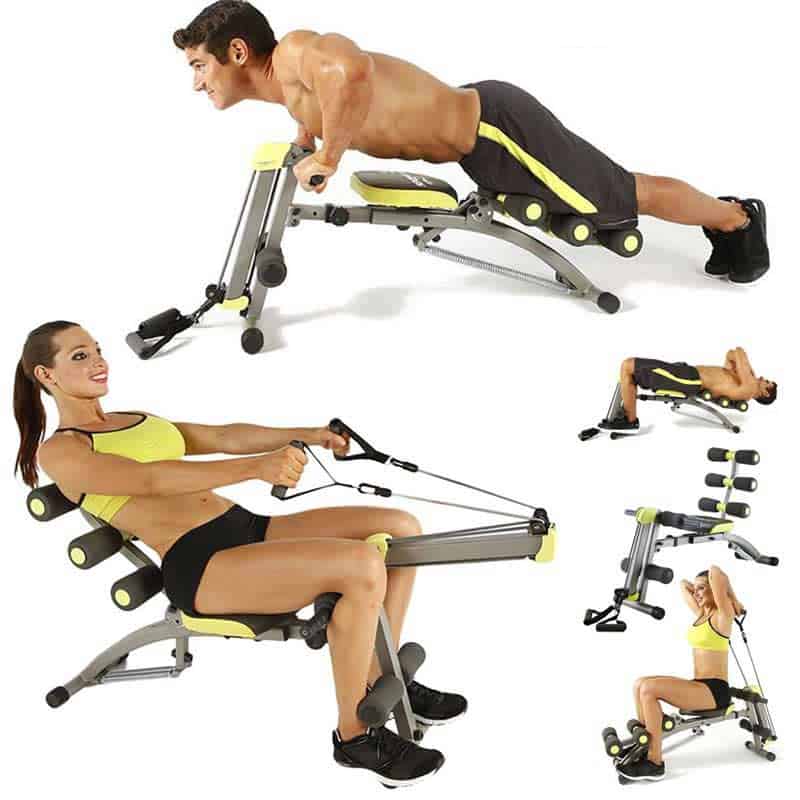 We see the former as a handy reference, although you're probably going to be able to find your own way around the WonderCore 2 very quickly.  The latter is something we suspect most people are going to watch once, if at all, but we suspect beginners will appreciate the extra reassurance and even some people with more fitness experience might like to use it to double-check they're using the WonderCore 2 in the appropriate way.
Assuming you use the full range of exercises regularly, you should be able to target a wide range of muscles in your chest, shoulders and back, along with your biceps, triceps, glutes and calves as well as your upper, middle and lower abs and obliques.
We'd also suspect that any sort of hard workout on the WonderCore 2 is going to have an element of cardio, but those looking specifically for an intensive cardio workout will need to supplement the WonderCore 2 with other equipment or exercises, whereas those looking for low-cardio options will do just fine with the WonderCore 2.
We liked the fact that the original WonderCore Smart System offered a degree of support to users and therefore was likely to be a good choice for users with issues in their neck and (lower) back or users who had particular concerns about developing them.
The structure of the WonderCore 2 means that it offers even more support, which we like to see.
Wondercore 2 Review Video
Here's quite a good review video from a guy with a heavy Liverpool accent - sorry to our American readers 🙂
For the sake of completeness, we should probably also mention that the WonderCore 2 comes with a nutrition guide, although for full completeness we'd have to add that it is very much pitched at beginner level and that there's a whole lot more nutritional information available on decent internet sites.
In reality, however, this is just an added bonus and what most people will probably want to know is whether or not the WonderCore 2 lives up to its marketing and whether or not it's a worthwhile purchase.  Well the answers are: no and quite possibly.
Our only real gripe about the WonderCore 2 is essentially the same one as we had about the WonderCore Smart System, they are both over-marketed.
If you buy the WonderCore 2 expecting the same sort of experience as you'd get from a high-end, home multi-gym, you're going to be very disappointed and it certainly is nowhere near the sort of experience you'd get from going to a decent gym to use the range of equipment on offer there.
On the other hand, at £100 the price of the WonderCore 2 is roughly equivalent to the price of a couple of months' gym membership.  Looked at from that perspective, it's more than value for money.
It saves you the time it takes to go to a gym.  Plus its compact size means that it is a natural fit for today's smaller homes and can even find a place in all but the smallest of rooms in the largest of cities (in which case look at the WonderCore Smart System).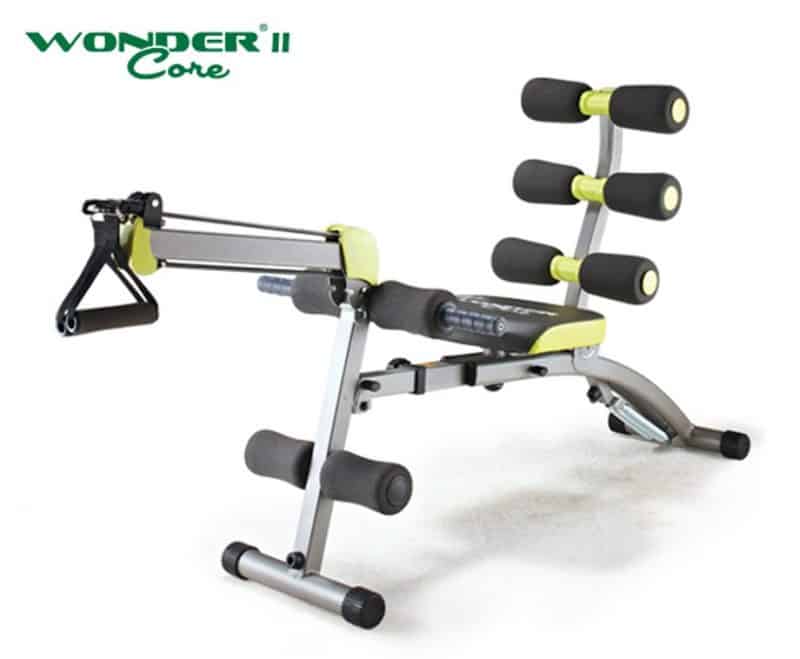 Hence, if you're a serious gym goer, then you either need to stick with your subscription and use the WonderCore 2 as a supplement (which we would say is entirely feasible given its low price and small dimensions) or invest in a well-reviewed, home multi-gym at several multiples of the price of the WonderCore 2.
If, however, you're either looking for a cost-effective and space-effective device to start you on your road to fitness and/or to help you to maintain a decent level of fitness, probably in combination with other equipment or forms of exercise, then the WonderCore 2 could be a very smart buy.
We'd say that those who are either recovering from injury or are at particular risk of injury might even want to give the WonderCore 2 preference over the WonderCore Smart System, assuming they have enough space for it.
We'd say the extra support it offers gives it the edge here.  For people who simply want a decent, low-cost, home mini-gym, the choice between the WonderCore Smart System and the WonderCore 2 is essentially a matter of preference.
We'd be tempted to say that if your the kind of person who likes to mix and match a broad range of exercise options, so you'll only be using your WonderCore device at most a couple of times a week, then you might be best to go for the WonderCore Smart System as it is a bit smaller (and cheaper).
On the other hand, if you're more the kind of person who likes to stick to a routine and hence will want to use your WonderCore device several times a week, then you might appreciate the extra support and versatility of the WonderCore 2.

Built to last with durable, gym quality, steel construction can support up to 265 lbs (120 kg)
Features a built-in twisting seat so you can target your obliques and tighten your waistline. Dimensions (Assembled): 102cm x 89cm x 54cm; (Folded): 112cm x 54cm x 32cm
Last update was on: December 4, 2023 1:42 pm
Built to last with durable, gym quality, steel construction can support up to 265 lbs (120 kg)
Features a built-in twisting seat so you can target your obliques and tighten your waistline. Dimensions (Assembled): 102cm x 89cm x 54cm; (Folded): 112cm x 54cm x 32cm
Boasts an improved ergonomic back design; Resistance bands, making the Wonder Core 2 a 12-in-1 muscle-toning system, full body workout
Use it in any room in your house, while watching TV! It doesn't take up space and when you're done it folds away for easy storage
Exclusive rowing system means you can get your cardio workout in as you tone and strengthen your entire body