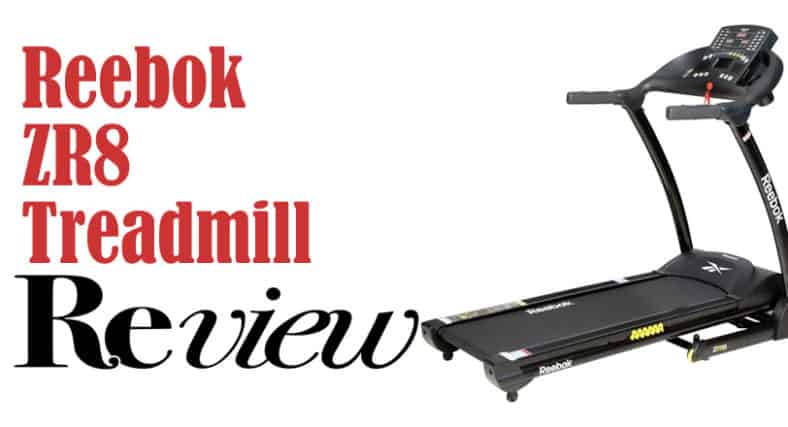 Although the Reebok ZR8 is at the more affordable end of Reebok treadmills, it's fair to say that there are cheaper treadmills out there.
We are therefore taking a look at the Reebok ZR8 to see how it measures up against them and, ultimately, whether it's worth the extra money or are you paying for the name alone?.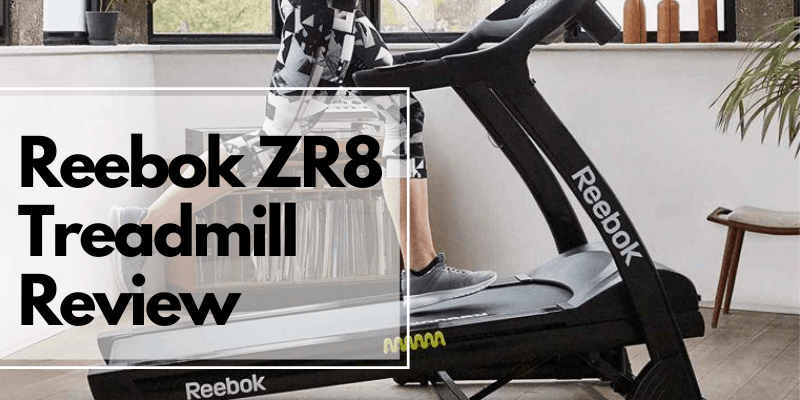 On to our full Reebok ZR8 Treadmill Review
Read Our Review Of The The Best Treadmill For Home Use
Quick Basic Pro's And Con's
---
Reliable well-known brand Smooth and well-cushioned track
Easy Assembly
Pulse rate and speaker systems
Fully range of modes to keep things exciting
Lower end model but still lots of features
[/wpsm_cons]

CONS:
Few reports of poor components can be found easily online
Slightly pricey for a lower end model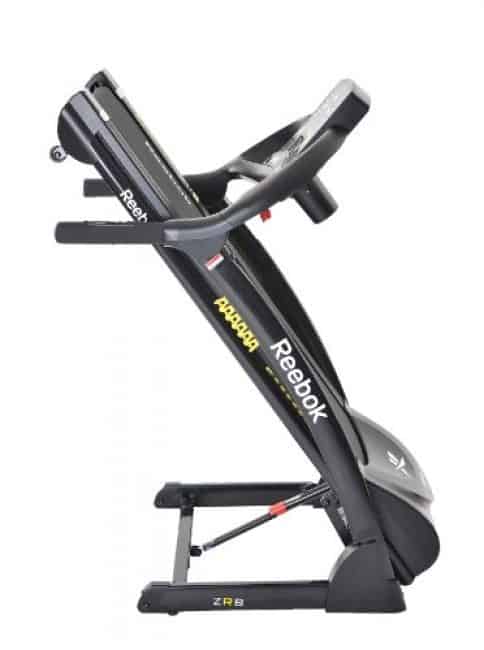 Price point
When the Reebok ZR8 first came on the market it was at the £1K+ price point, but since then it has come down to a more affordable standard retail of around £700 and if luck is on your side, you may even be able to get it for less.
The specifications are, of course, still the same.
The reason for the price drop is the fact that new treadmills have come on the market, creating competition.
Indeed the Reebok ZR8 is up against other treadmills from Reebok itself.
When looking at suppliers for the Reebok ZR8, we strongly recommend that you look for vendors who offer free delivery, or at least delivery at minimal cost.
If you must collect, you'll need a van and a helper.
At 67KG the Reebok ZR8 is actually quite a bit lighter than some offerings from Reebok, but hardly something you're going to be happy to carry home in a bag.
User weight
The Reebok ZR8 treadmill is intended for use by people with a maximum weight of 110kg (17st 5lb).
Getting started
Probably the single key point to remember when it comes to putting together the Reebok ZR8 is to have the delivery people put it exactly where you want it.
If you collected it yourself, put it where you want it while your helper is still there.
That aside, assembling the Reebok ZR8 is a whole lot easier than assembling your average piece of flat-pack furniture and you should be up and running (literally) in comfortably under an hour.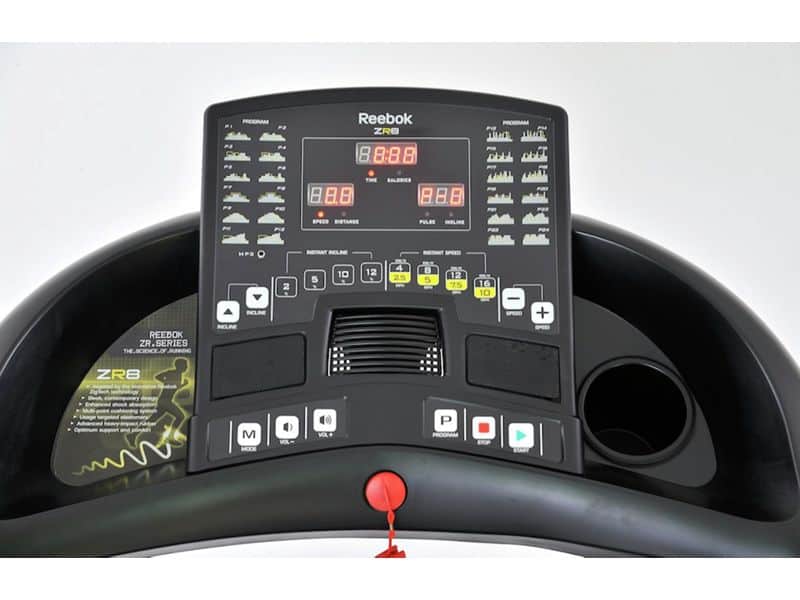 The final folded dimensions are: H145, W74, D102cm, which is on the compact side compared with a fair number of other treadmills on the market.
Hence, if you've been struggling to find a treadmill to fit into your space when out of use, the Reebok ZR8 could be worth a look on those grounds alone.  As a final point, the Reebok ZR8 has a "soft fold" mechanism, which as far as we can see means that even if you actually try, you're unlikely to be able to let it drop to the ground with a thump.
To be fair, we can actually see this serving a practical purpose since we're guessing that a fair number of these treadmills will find themselves installed in upstairs rooms and flats and this could help to keep the peace with those downstairs by removing the possibility of you just letting the deck drop, by accident or forgetfulness.
For ourselves the key point is that we're happy you can fold and unfold the deck without damaging your fingers, knees or back.
Features and operation
Power on the Reebok ZR8 and the LEDs on the console spring to life.  Something we've noticed about Reebok is that the consoles on their treadmills all seem to have a different look and feel.
We're guessing this is a deliberate attempt to cater to different tastes.  Hence, your average Reebok treadmill console may be a love-or-hate affair, although we generally get on OK with them regardless of which model we've tested.
To be fair to Reebok, you'd be hard pushed to find a treadmill manufacturer out there which puts as much effort into making easy-to-use consoles, so regardless of whether or not you like its style, chances are you're going to be navigating your way around it like a pro in very short order.

On the Reebok ZR8, the top part of the console has 3 LCD screens, which, between them, cover the usual feedback points (speed, distance, time, calories, pulse and incline).
On either side of these LCDs, there are twelve little graphics, which give users a fair indication of what to expect from the 24 pre-set programmes.  The bottom half of the console contains two rows of buttons, divided by a speaker.
These cover all the various functions of the treadmill, if you wish speed and incline can also be adjusted via the hand rails, which are equipped with pulse sensors.
On the left-hand side of the console, there is something which looks remarkably like a car coin tray, but which is presumably intended to hold your preferred source of music, since the input jack is on this side too.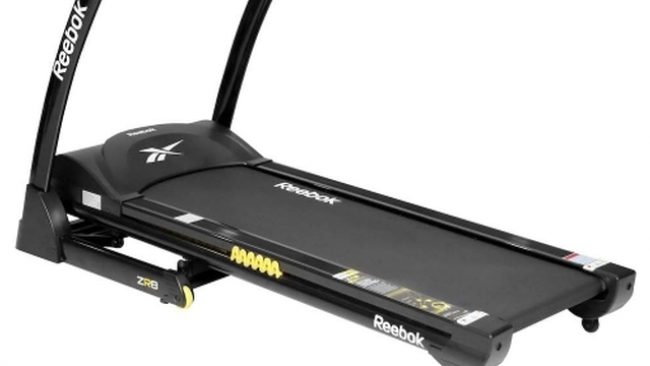 As you'll have realized from this, the Reebok ZR8 uses a wired connection rather than Bluetooth and we're fine with this since there's basically zero chance of the wires interfering with your run and in our opinion sticking in a wire is at least as easy as pairing with Bluetooth, plus it uses less power.  The, single, drinks holder is on the right-hand side.
As we've mentioned, you can choose your own speed and incline or opt for one of 24 pre-set programmes which cover all kinds of muscle groups and workout aims, along with 3 "target" programmes (time, distance and calories), 3 user-defined programs and a body fat tester.
We suspect that'll probably be enough to keep most users happy.  Once you've decided what you're going to do, you can set the Reebok ZR8 into motion and appreciate the quietness of its 2HP motor (with 3 HP peak speed).
The Reebok ZR8 maxes out at 16KPH.  This is pretty much par for the course with the intermediate range of home treadmills.
What is reassuring about Reebok treadmills in general is that the motor is about as good as you can possibly expect for the home market and the Reebok ZR8 gives the impression of being a machine, which can stand up to a long period of reliable service.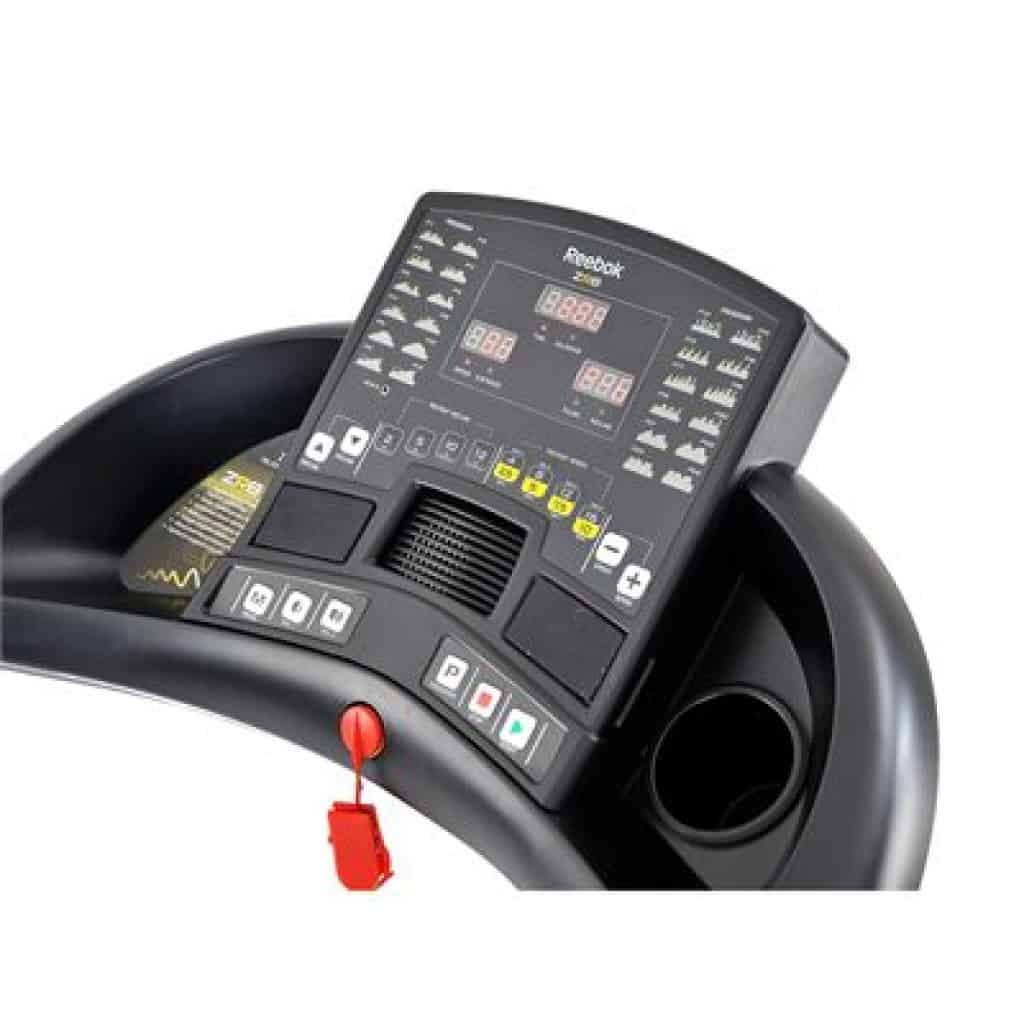 Read Our Review Of The The Best Treadmill For Home Use
The actual running area comes in at 126 cm by 41 cm, which is very reasonable.
That extra little bit of length and width does make a meaningful difference for people who want to use the Reebok ZR8 for running rather than walking.
We're also big fans of Reebok's ZigTech cushioning system.
Reebok have made cushioning a major selling point for all their treadmills and while ZigTech is somewhat lower down the scale than the "Air Motion Technology" cushioning they use once you start going towards the premium end of their range, it is the difference between "running on air" and running on a very comfortable, shock-absorbing surface.
In other words, it does a great job of protecting your joints and making your run a more pleasurable experience and you'd be hard pushed to find a better cushioning system at this sort of price range.
We were also pleased to note that the Reebok ZR8 moved smoothly up and down its 12 levels of incline and that the running deck still felt nice and stable at the higher levels.
As a final point, we were also pretty impressed with the integrated speaker on the Reebok ZR8.
We do have to warn you that if you're the kind of person who likes to turn it up to 11 volume-wise, then you're going to have to make alternative arrangements, however for everyone else the volume level should be sufficient (particularly given how quiet the motor is) and the sound quality was, if we're honest, better than we were expecting.
Safety features
The shut-off key is easily accessible and also on a lanyard for extra safety.  The cushioning is more than adequate and as well as providing plenty of grip, we were very happy about the stability of the running deck on the Reebok ZR8, particularly at higher inclines.
We've had issues in the past with decks starting to wobble as they moved away from their natural centre of gravity and there was none of that here.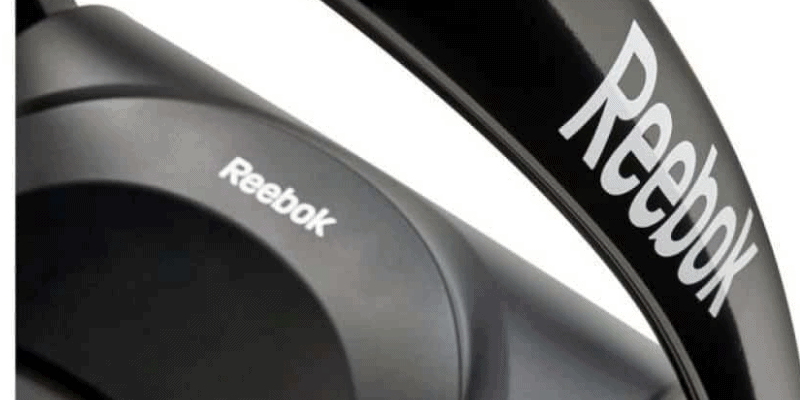 Reebok ZR8 Treadmill Review - Overall
If you happen to find a retailer still trying to sell the Reebok ZR8 at the £1K mark, then move swiftly on, for that price there is far better out there right now.
If, however, you see it on sale at the £700 mark or less, then the Reebok ZR8 is certainly worth serious consideration.
It's what we'd call a good all-rounder, it has a decent level of speed and range of inclines and enough pre-set programmes to keep most people happy.  More than that, however, it comes with Reebok build quality and the guarantees to support it (2 years overall, 10 years on the motor and a lifetime on the frame), which gives us confidence that this is a treadmill which is built to last.
In other words, if you want a simple and convenient home-exercise solution, with a decent level of functionality and are happy to live without the extra bells and whistles on upper-end models, then the Reebok ZR8 could well make you very happy and will quickly pay for itself in terms of removing the need to pay gym fees and, of course, relieving you of the need to travel to the gym.
Alternatively, if you only like running outdoors when the weather is decent, then the Reebok ZR8 is affordable enough to be kept as a "bad weather" solution.

Powered by a 2.0HP motor, the ZR8 has a maximum speed of 16kph (10mph), which makes it ideal for both short, high-intensity sprints and long endurance runs. The intensity of the run can be further tailored by the 12 levels of electronic incline. The unique ZigTech cushioning system will take care of dispersing the impact energy across the length of the running deck, helping to protect your joints.
Last update was on: November 21, 2023 8:15 pm
Powered by a 2.0HP motor, the ZR8 has a maximum speed of 16kph (10mph), which makes it ideal for both short, high-intensity sprints and long endurance runs. The intensity of the run can be further tailored by the 12 levels of electronic incline. The unique ZigTech cushioning system will take care of dispersing the impact energy across the length of the running deck, helping to protect your joints.
To ensure you are kept motivated and challenged, the treadmill console can deliver up to 24 varied fitness programs designed by our master trainers to take you from a gentle jog to a mountainous hill climb, depending on how far you want to take it. To help you reach your fitness goal you can plug your mobile phone into the integrated speakers and blast out your favourite motivational tracks.
The console will help you keep track of how you are progressing by providing detailed feedback on your calories burned, duration of the run, distance travelled, current speed, elevation and heart rate – using the integrated hand pulse sensor built into the hand rests.
Even though the ZR8 is a relatively compact treadmill, it's running area of 126 x 41cm is more than spacious enough for runners over 6'3". The running deck has been rigorously tested to provide a maximum user weight of 120kg. To make the treadmill even more space conscious, the soft drop folding technology allows you to fold the running deck up when not in use.
The ZR8 comes with a peace of mind Reebok 10-year motor, lifetime frame, and 2-year parts and labour warranty as standard. The treadmill comes with easy to follow assembly instructions and a dedicated Reebok UK freephone helpline and online chat, should you require any assistance.
Best selling treadmills on Amazon
| # | Preview | Product | Rating | Price | |
| --- | --- | --- | --- | --- | --- |
| 1 | | Mobvoi Home Treadmill Foldable, Electric 2.25HP, Built-in Bluetooth Speaker, Remote Control, Walking... | 253 Reviews | £349.99 | Click For More Details |
| 2 | | OVICX Q2S Treadmills for Home Folding Portable Treadmill Compact Walking Running Machine Workout... | 574 Reviews | £549.00 | Click For More Details |
| 3 | | BTM W501 Electric Treadmill Folding │USB & Speakers │12KM/H │Motorized Running Jogging Walking... | 295 Reviews | £319.99 | Click For More Details |
| 4 | | Electric Motorized Folding Treadmill Heavy Duty 1.5 HP Indoor Walking, Running, Jogging Exercise Gym... | 25 Reviews | £209.99 | Click For More Details |
| 5 | | Dripex 2 in 1 Folding Treadmill, 2.25HP Under-Desk Motorized Treadmill with Bluetooth Speaker,... | 507 Reviews | £399.99 | Click For More Details |
| 6 | | Jupgod Treadmills for Home, 1.5HP Running Machine Under Desk Motorized Treadmill, 1km/h to 10km/h,... | 13 Reviews | £169.99 | Click For More Details |
| 7 | | Evolve B1 Motorized Electric Treadmill for Home - 3 level manual inclination & Foldable running... | 257 Reviews | £255.00 | Click For More Details |
| 8 | | Nero Sports - Foldable Electric Motorized Treadmill with Bluetooth | 1,643 Reviews | £269.99 | Click For More Details |
| 9 | | Bluefin Fitness KICK 2.0 Innovative High-Speed Folding Treadmill | Kinomap | Live Video Streaming |... | 155 Reviews | £359.99 | Click For More Details |
| 10 | | JLL S300 Digital Folding Treadmill, 2021 New Generation Digital Control 4.5HP Motor, 20 Incline... | 994 Reviews | £479.99 | Click For More Details |