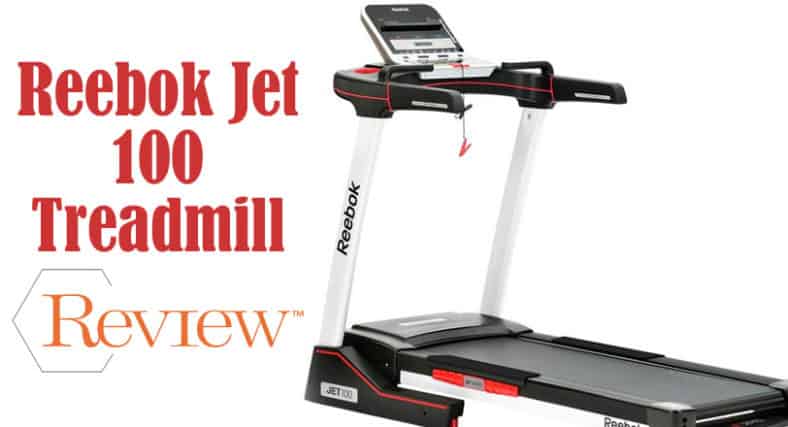 Note: Customer support number 08004402459. Powered by a 2.0 HP motor, the Jet 100 treadmill has a maximum speed of 16 kph (10 mph); the intensity of the run can be further enhanced by the 12 levels of electronic incline
Last update was on: November 30, 2023 6:26 pm
Note: Customer support number 08004402459. Powered by a 2.0 HP motor, the Jet 100 treadmill has a maximum speed of 16 kph (10 mph); the intensity of the run can be further enhanced by the 12 levels of electronic incline
The distinct air motion cushioning system built into the running deck reduces the impact of your foot strike across multiple air-filled pockets for a more comfortable running experience
To ensure you are motivated and challenged, the treadmill console can deliver up to 24 varied fitness programs designed by Reebok master trainers to take you from a gentle jog to a mountainous hill climb
To help you reach your fitness goal you can plug your mobile phone into the integrated speakers and blast out your favourite motivational tracks; switch on the cooling fan for a relaxing breeze
Download and sync the Reebok Fitness app with your treadmill to track progress, set real-world running routes and watch as the treadmill responds to the conditions of your chosen route
With a running area of 130 x 43 cm, the Jet 100 is more than spacious enough for runners of all shapes and sizes; the running deck has been rigorously tested to provide a maximum user weight of 110 kg
10-Year motor, lifetime frame, 2-year parts and labour warranty as standard; easy to follow assembly instructions and a dedicated Reebok UK helpline and online chat, should you need any assistance
The Reebok Jet 100 Treadmill is another addition to Reebok's range of affordable but effective treadmills, which allow runners to enjoy a high-quality work-out safe in the comfort of their own home.
Price point
Standard retail price for the Reebok Jet 100 is around £800, although if you're lucky it's sometimes available for less, in some cases much less but £800 as of now is a good guide. 
When we look at the question of its value, we'll assume you're paying close to this full retail price for the sake of clarity
Weight (user and machine)
The Reebok Jet 100 is intended for use by people with a maximum weight of 110kg (17st 5lb). 
The machine itself is a substantial 80kg so if you get the option of delivery, we'd recommend you take it even if it means paying a bit more. 
If you absolutely need to collect, you're going to need a van (rather than a car) and a friend. 
Size-wise, folded the Reebok Jet 100 comes in at H155, W78, D114cm, so it's fairly compact, which is just as well because its sheer weight means that once it's in place, you're probably going to want to leave it there.
Reebok Jet 100 Treadmill - Getting started
Given that the Reebok Jet 100 arrives around 90% assembled, it's really very hard to go wrong with the last few steps. 
All you have to do is lift the frame, tighten up the screws and remove the safety cap. 
You could probably manage this without the help of the included manual, but it's there if you need it. 
The folding mechanism is of the high standard we've come to expect from Reebok and since most of the weight of the Reebok Jet 100 is in the actual frame and console, the running deck itself is quite light, so it's easy enough to lift.
Read Our Review Of The The Best Treadmill For Home Use
Reebok Jet 100 Treadmill - Features and operation
Once you power up the Reebok Jet 100, what you'll probably notice first of all, indeed what you'll probably find hard to miss, are the LED icons on the console. 
We have to put a flag here and say that we suspect some people are going to hate the console on the Reebok Jet 100 since it is basically a matter of judgement as to whether it is bold and simple or brash and ugly. 
We have to be open and say that in our opinion it does give what is a fairly high-intermediate level product in terms of price and features, something of the look of a child's toy. 
On the other hand, we do have to admit that the console has an important role to play in terms of usability and that the fact that the icons are on the large and colourful side does mean that they can be easily seen by anyone including people who usually need glasses but prefer to keep them off for running.
Overall, therefore, we'd say that visibility takes precedence over stylishness, at least as far as gym equipment is concerned, so we're fine with the look of the console. 
We're also fine with the level of feedback (speed and incline, distance and time, pulse and calories).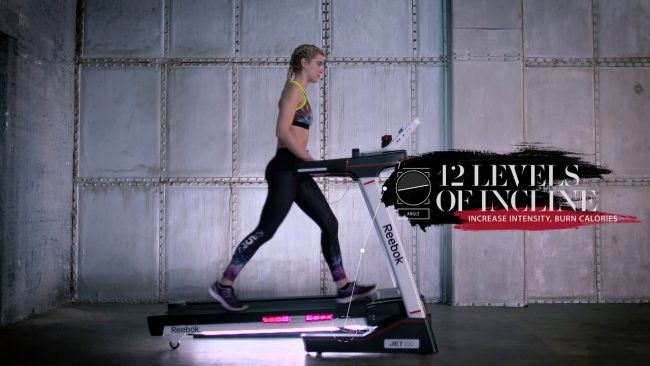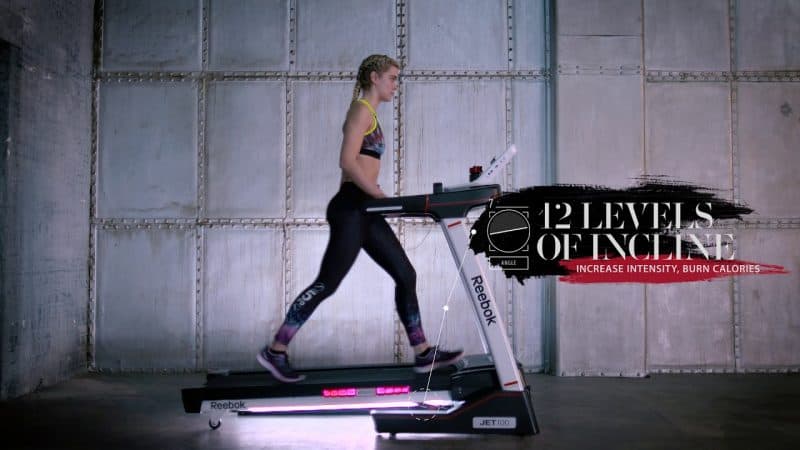 Just like the icons on the top part of the console, the buttons underneath are big, bold and visible and their functions are obvious. 
The top row of buttons is split between incline (on the left) and speed (on the right) with the fan button in between them. 
There are 12 default settings for each and 4 quick access buttons to take you either to where you want to go or somewhere near it.  You then use + and - buttons to adjust if necessary. 
Our one slight gripe about the + and - buttons is that on the left (incline), the layout is +/- whereas on the right (speed), it's -/+. 
We appreciate this is purely a matter of taste but we'd have preferred them to have been the same on both sides. 
Having said that, we suppose you can get used to the idea that you press the button nearest the outside of the console to increase incline and/or speed and vice versa. 
There are 24 pre-set programmes and access to them is very intuitive.  In fact we suspect you could probably work it out even without bothering to look at the manual. 
The hand grips have speed and incline buttons along with a pulse monitor.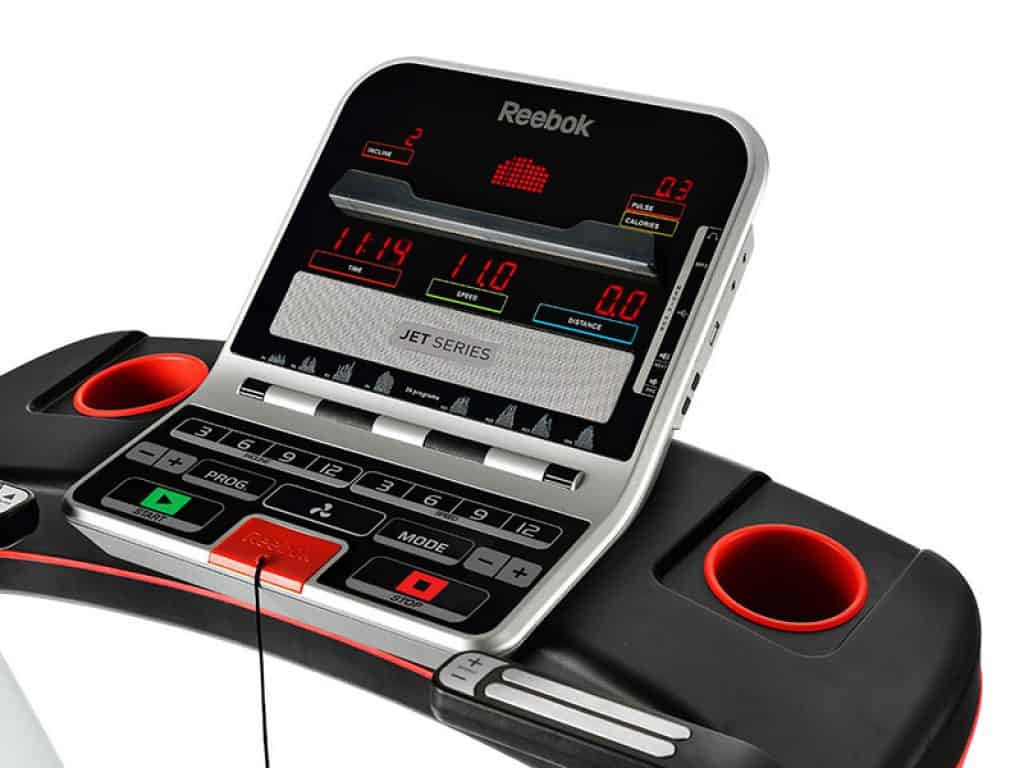 The motor is everything we've come to expect from Reebok.  The headline specs may look nothing exciting (2 HP continuous, 3 HP peak, maximum speed 16KPH), but it's the noise, or rather lack thereof, which makes us happy. 
That and the fact that Reebok provides a 10 year warranty on the motor, which is a pretty strong indication that they expect it to last the course and are prepared to back their choice. 
Frankly, we'd suspect that for most home users, quietness and reliability are far more important than zipping up to the highest, possible speed.
The running area on the Reebok Jet 100 is 130cm * 43cm (that's 52" by 17") and that little bit of extra width as compared to lower-end treadmills does make an appreciable difference. 
Another "invisible detail", which we find very pleasing is the fact that the Reebok Jet 100 includes what Reebok calls "Air Motion Technology".  Cushioning has always been a big feature of Reebok treadmills and even their lower-end treadmills have very respectable levels of protection. 
The higher up the scale you go, the better it gets.  Air Motion Technology essentially translates as the running deck of the Reebok Jet 100 being filled with pockets of air, which cushion your foot as you run. 
Basically it's rather like running on a super-high-end (and suitably firm) mattress and extremely comfortable.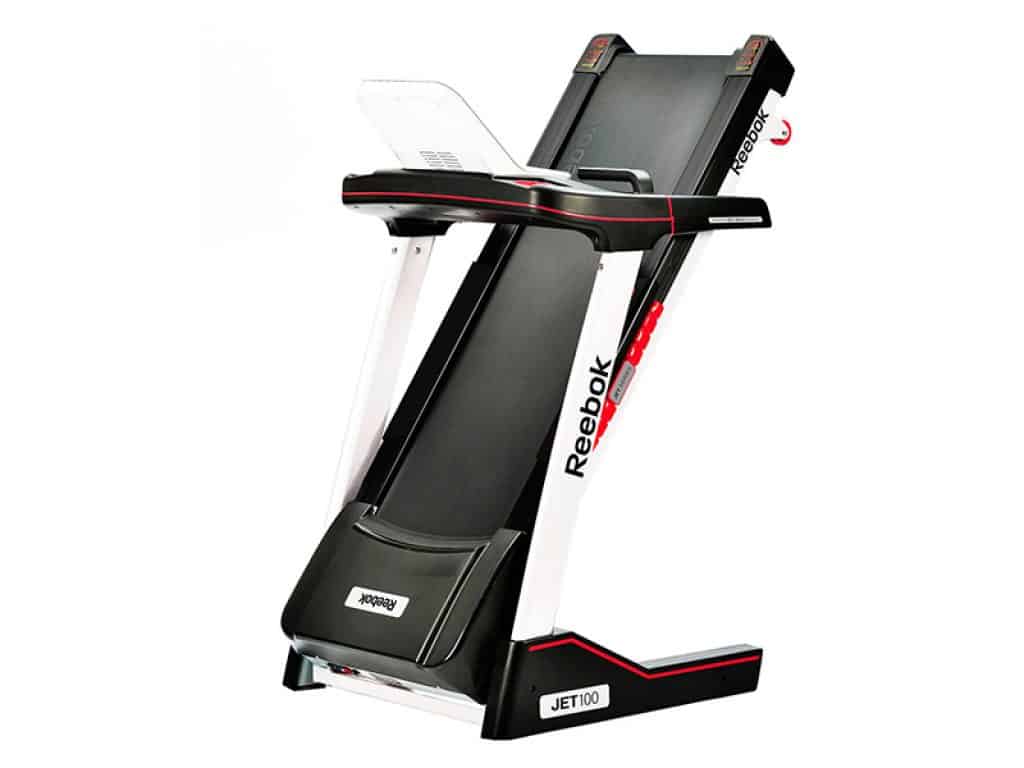 Reebok Jet 100 Treadmill - Finishing touches
These days treadmills are about more than just running, even lower-end treadmills are supposed to have some form of entertainment options and the Reebok Jet 100 has a pretty respectable offering for the price. 
The display part of the console has a ledge where you can put your media gadget of choice and connect it to the audio input jack. 
We like this better than the gadget-holders on the base of the console in other models, since it's a bit more flexible, for example you could put a reasonably-sized tablet on it quite easily. 
Also, it's a bit further away from the two bottle holders, which we prefer.  We're fine with connecting media gadgets the old-fashioned way. 
The wire is unlikely to interfere with your use of the Reebok Jet 100 and it's a lower-power option than wireless connectivity. 
As an added bonus, there is an integrated MP3 player, which will play your favourite tunes if you insert a USB stick into the port on the console.
Reebok Jet 100 Treadmill - Safety features
All standard safety features are in place for any treadmill we review and we've already touched on some of the extra safety benefits offered by the Reebok Jet 100. 
We'd just like to highlight them a bit more clearly here. 
The standard safety key is on a lanyard, which means you can attach it to your clothes and hence if you fall the key will automatically be pulled out of the socket and stop the treadmill. 
The high degree of cushioning provides safety as well as comfort in that it helps to reduce the risk of injury, particularly impact-related injury. 
Finally, the fan helps keep runners cool, which is an obvious benefit to those who have to use their Reebok Jet 100 in rooms with minimal ventilation. 
For some people, it may only be of value in summer, but be of very high value then.
Reebok Jet 100 Treadmill - Overall
Our feeling is that Reebok are pitching the Reebok Jet 100 at people who want a treadmill which is really simple to use but still provides a decent level of advanced functionality. 
In fact we see the natural market for this product as being older users who want a convenient, affordable and safe way to manage their personal fitness. 
At the same time, however, the Reebok Jet 100 is most certainly up to being used by people who want a serious piece of training equipment. 
As is standard with Reebok, build quality is excellent so the Reebok Jet 100 is more than robust enough to stand up to everyday use as a proper running treadmill. 
In particular, the motor and the running deck are both of near-gym standard and certainly more than suitable for heavy use in a home environment since this is still going to be less onerous than being used in gyms. 
While it's certainly true that there are treadmills in an equivalent price bracket which have a whole lot more than 24 programmes, it's worth asking yourself how many programmes you actually need. 
If you're anything like most people, even if you're seriously into training, you have a handful of programmes you use regularly and you probably pretty much ignore the rest. 
In short, while we could wish the Reebok Jet 100 had a console which was a bit more stylish, that's a minor gripe on what is otherwise an outstanding machine for its price and beautifully simple to use.
Best selling treadmills on Amazon
| # | Preview | Product | Rating | Price | |
| --- | --- | --- | --- | --- | --- |
| 1 | | Mobvoi Home Treadmill Foldable, Electric 2.25HP, Built-in Bluetooth Speaker, Remote Control, Walking... | 253 Reviews | £349.99 | Click For More Details |
| 2 | | OVICX Q2S Treadmills for Home Folding Portable Treadmill Compact Walking Running Machine Workout... | 574 Reviews | £549.00 | Click For More Details |
| 3 | | BTM W501 Electric Treadmill Folding │USB & Speakers │12KM/H │Motorized Running Jogging Walking... | 295 Reviews | £319.99 | Click For More Details |
| 4 | | Electric Motorized Folding Treadmill Heavy Duty 1.5 HP Indoor Walking, Running, Jogging Exercise Gym... | 25 Reviews | £209.99 | Click For More Details |
| 5 | | Dripex 2 in 1 Folding Treadmill, 2.25HP Under-Desk Motorized Treadmill with Bluetooth Speaker,... | 507 Reviews | £399.99 | Click For More Details |
| 6 | | Jupgod Treadmills for Home, 1.5HP Running Machine Under Desk Motorized Treadmill, 1km/h to 10km/h,... | 13 Reviews | £169.99 | Click For More Details |
| 7 | | Evolve B1 Motorized Electric Treadmill for Home - 3 level manual inclination & Foldable running... | 257 Reviews | £255.00 | Click For More Details |
| 8 | | Nero Sports - Foldable Electric Motorized Treadmill with Bluetooth | 1,643 Reviews | £269.99 | Click For More Details |
| 9 | | Bluefin Fitness KICK 2.0 Innovative High-Speed Folding Treadmill | Kinomap | Live Video Streaming |... | 155 Reviews | £359.99 | Click For More Details |
| 10 | | JLL S300 Digital Folding Treadmill, 2021 New Generation Digital Control 4.5HP Motor, 20 Incline... | 994 Reviews | £479.99 | Click For More Details |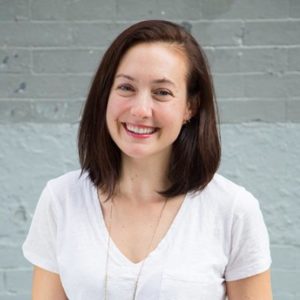 Katie is our resident Editor and extremely is a well-respected voice in the world of fitness. Katie has a first-class Hons degree in Journalism and is proud to say that she has written leading entries featured in the biggest media outlets including Vogue, Women Health Magazine and CoachMag. Great outdoors and animal lover and always on the go